Report says over 20,000 injured since start of war last year, but ceasefire in August has contributed to sharp decline in casualties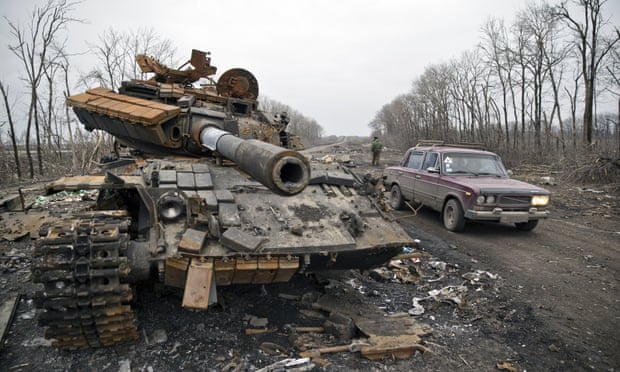 More than 9,000 people have died in 21 months of fighting in eastern Ukraine, even as a new ceasefire has largely held and contributed to a sharp decline in casualties since mid-August, according to the UN.
A report from the Office of the High Commissioner for Human Rights said 9,098 people including fighters and civilians have died in the conflict since April last year. The total is up from 7,883 in the previous quarterly report released in September. More than 20,000 have been injured, up from 17,610.
Gianni Magazzeni, a senior UN official involved in the report, said the increases were due to counts made by the Ukrainian interior and defence ministries , not numbers killed between the two reports. We tried to bringing the figures in line with available information at present, he said.
The report said a ceasefire within a ceasefire agreed in late August and subsequent withdrawal of heavy weapons from frontlines had soothed violence between government forces-out and pro-Russian separatists. But it cautioned that skirmishes in early November had fanned dreads of a possible the resumed part of shelling of population centres.
Magazzeni said: There remain a large number of unidentified bodies in mortuaries, in multiple places, particularly in the areas controlled by armed groups. Since the reports cutoff date of 15 November, six people have been killed and 21 have been wounded, he added.
The easing of tensions comes after a particularly violent period from mid-May to mid-August, when 105 civilians were killed. The new report said the Ukrainian government had applied some provisions of an accord hit in Minsk, Belarus to help end the violence.
After more than 9,000 people have lost their lives, the reduction in hostilities, and thus in new casualties, is very welcome, said the UN human rights chief Zeid Raad al-Hussein. I advise all sides to fully implement the Minsk agreements and to actively work to ensure the application of the rule of law and international human rights norms everywhere in Ukraine.
Read more: www.theguardian.com