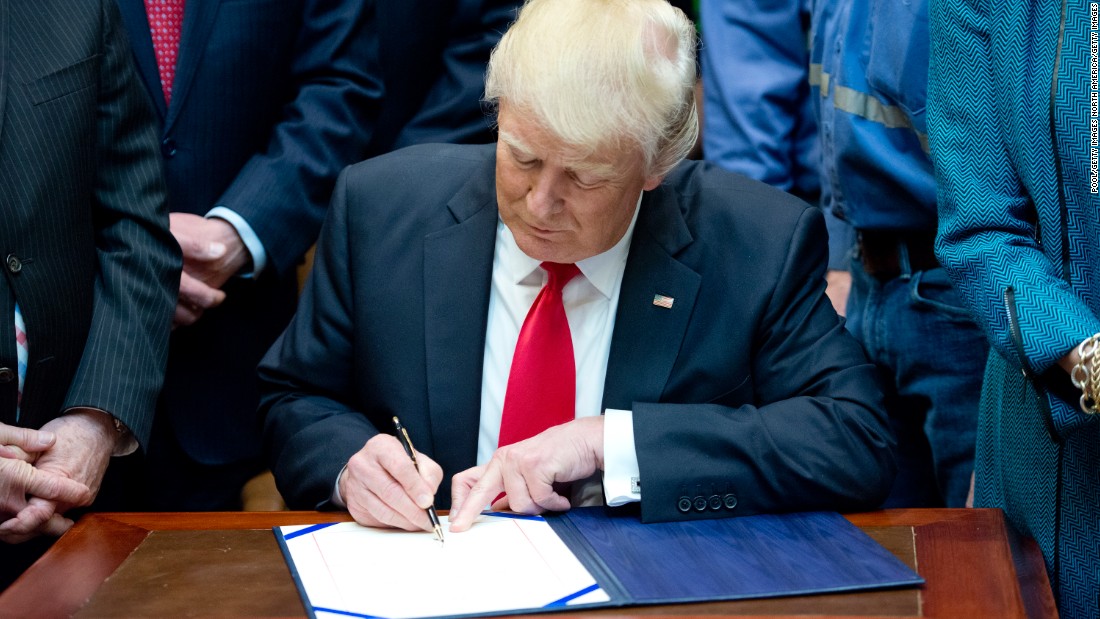 Washington (CNN)In his first year in office, President Donald Trump signed 117 bills into law, but few represented major legislative achievements.
The passage of a massive Republican tax overhaul law stands as the crowning victory of the Trump agenda's first year. However, the majority of laws were symbolic, expanded upon existing legislation, or aimed at dismantling former President Barack Obama's legislative legacy. Many passed through the Congressional Review Act, which allows Congress to roll back regulations imposed by the executive branch.
"This bill amends the Indian Employment, Training and Related Services Demonstration Act of 1992 to rename the Act to the Indian Employment, Training and Related Services Act of 1992 and to revise the program that provides for the integration of employment, training, and related services programs for Indian tribes."
This law expands access to apprenticeship programs for veterans.
This law authorizes the VA to disclose certain patient information to substance monitoring programs.
"This bill amends the Presidential and Federal Records Act Amendments of 2014 to require the General Services Administration (GSA) to provide guidance and assistance to federal agencies for effective mail processing."
"This bill modifies the rules relating to withdrawals from the Thrift Saving Plan (TSP) accounts of former federal employees and Members of Congress."
This law authorizes the Department of Justice to register EMS agencies so they will be allowed to administer controlled substances to those in emergency situations.
This law amends existing legislation in order to create a National Computer Forensics Institute within US Secret Service. The institute will be tasked with "educating … officers, prosecutors, and judges on current cyber and electronic crimes and related threats" among other duties. It also amends a separate piece of existing legislation, "authorizing the Department of Justice's Bureau of Justice Assistance to enter into a cooperative agreement or make a grant for training and technical assistance to help law enforcement officers, investigators, auditors, and prosecutors identify, investigate, and prosecute white collar crime."
This law increases "the rates of veterans' wartime disability compensation, additional compensation for dependents, the clothing allowance for certain disabled veterans, and dependency and indemnity compensation for surviving spouses and children."
This reauthorizes the National Internet Crimes Against Children Data System and the National Strategy for Child Exploitation Prevention and Interdiction through FY 2022.
This law requires the Department of Energy "to issue a rule by July 1, 2021, that determines whether energy conservation standards for external power supplies should be amended."
This act "amends the Public Health Service Act to revise programs for deaf and hard-of-hearing newborns and infants, including to expand the programs to include young children."
This law "directs the Securities and Exchange Commission (SEC) to establish and implement a 'safe harbor' for certain investment fund research reports published by brokers and dealers."
This law reauthorizes the airport improvement program, extends certain expiring programs and benefits, and modifies the IRS code to allow for "various tax credits, deductions, and modifications to existing rules for individuals and businesses affected by Hurricanes Harvey, Irma, and Maria."
This law extends "certain expiring provisions of law administered by the Secretary of Veterans Affairs," including some related to health care, transportation, benefits, and homelessness.
This law makes it easier for veterans to appeal decisions on disability claims through the VA.
This new law blocks new construction-related permits for non-immigrant workers in the Northern Mariana Islands. The bill was introduced in response to Chinese construction companies using up thousands of the temporary permits.
This law requires the FBI to make guidelines about using an automated DNA sample analysis process dubbed "Rapid DNA." It also allows DNA samples collected under these standards to be included in the FBI's database for DNA information.
This law strips an expiration date from a law allowing Washington, Oregon and California to make state laws on fishing in any Dungeness crab fishery not included under the Magnuson-Stevens Fishery Conservation and Management Act.
Also known as the "Forever GI Bill," this law expands opportunity for veterans to use their educational benefits, most prominently getting rid of a 15-year time limit on using educational benefits for veterans who left active duty in 2013 or later. It also makes it easier for veterans to find schools that give them priority enrollment. It passed unanimously in the House and Senate.
In the wake of the shooting at a congressional baseball practice in Virginia, Trump signed a bill to let Capitol Police officers injured in the line of duty receive money to help pay for medical expenses.
This law amends the Homeland Security Act of 2002 in relation to DHS efforts to defend "the food, agriculture, and veterinary systems of the United States against terrorism and other high-consequence events that pose a high risk to homeland security."
This law protects federal employees from retaliation for refusing to violate a federal rule or regulation. It expands upon the protections of the Whistleblower Protection Act of 1987, which shields employees from backlash for refusing an order to violate federal law.
This law amends the Homeland Security Act of 2002 and seeks to improve management of the Department of Homeland Security's vehicle fleet. It authorizes the DHS undersecretary for management to oversee the fleet and requires regular analysis and evaluation of it.
This law amends the Omnibus Crime Control and Safe Streets Act of 1968 to prioritize the hiring of veterans in the Community Oriented Policing Services (COPS) program.
This resolution rolls back a rule issued by the Department of Labor under President Obama, which said that employers must make and maintain accurate records of work-related injuries and illnesses, and those who did not could be cited within five years of the violation. This repeal now re-enacts a six month statute of limitations on violations.
This legislation voids an executive order Obama signed in August 2016 that looked to protect government contractors by requiring employers to disclose labor law violations, including wage theft, unsafe working conditions and hiring discrimination.
This legislation nixes an Obama-era regulation meant to protect federal waterways from coal-mining waste.
This measure rolls back an Obama-era rule that required "resource extraction issuers to disclose payments made to governments for the commercial development of oil, natural gas or minerals."
This law "directs the Department of Justice (DOJ) to report on Department of Defense and Department of Veterans Affairs mental health practices and services that could be adopted by law enforcement agencies."
This law establishes a Civil Rights Network in the National Park Service.
"This bill establishes the 400 Years of African-American History Commission to develop and carry out activities throughout the United States to commemorate the 400th anniversary of the arrival of Africans in the English colonies at Point Comfort, Virginia, in 1619."
"This bill redesignates the Martin Luther King, Junior, National Historic Site in the state of Georgia as the "Martin Luther King, Jr. National Historical Park." The bill replaces the current boundary map with a map of a proposed boundary revision dated June 2015."
This law creates the Frederick Douglass Bicentennial Commission to "plan, develop, and carry out programs and activities to honor Frederick Douglass for the bicentennial anniversary of his birth" and "recommend the federal government entities appropriate to carry out such programs and activities."
This renames a border patrol checkpoint in Sarita, Texas.
This law "requires the Department of the Treasury to mint and issue gold, silver, and half-dollar clad commemorative coins in recognition and celebration of the 100th anniversary of the American Legion."
This act is aimed at promoting women's roles "in conflict prevention, management, and resolution and post-conflict relief and recovery efforts" by mandating that Trump administration develop and implement a "Women, Peace, and Security Strategy."
This law calls for a memorial to US military who fought in the war on terrorism to be built on the National Mall. The construction of the memorial, which will accompany remembrances like the Washington Monument and Lincoln Memorial, will be overseen by the Global War on Terrorism Memorial Foundation.
This bill renames a Veterans Affairs community living center after Sergeant Joseph George Kusick, an army radio operator who died when his helicopter was shot down in the Vietnam War in 1967.
This law authorizes the State Department to rejoin the Bureau of International Expositions (BIE) "to promote public diplomacy, global branding, and tourism to the United States."
This resolution approves a location on the National Mall in Washington, DC to create a memorial to Gulf War veterans.
This bill adds National Vietnam War Vetarans Day (March 29) as a holiday upon which the American flag should be prominently displayed.
This legislation renamed a VA health center in Pennsylvania after Abie Abraham, a World War II veteran.
This act aims to promote the advancement of women in NASA and the STEM fields through a number of educational and mentorship initiatives.
As Trump said when he signed this legislation, it "enables the National Science Foundation to support women inventors — which there are many — researchers, and scientists in bringing their discoveries to the business world."
This law requires federal agencies to make their websites mobile friendly.
This law is aimed at improving Customs and Border Protections' ability "to interdict fentanyl, other synthetic opioids, and other narcotics and psychoactive substances that are illegally imported into the United States."
This law allows for independent oversight of VA medical centers.
This legislation makes several technical changes to the Department of State Authorities Act and "provides the House and Senate Appropriations Committees with oversight authority regarding congressional reports on: high-risk diplomatic and consular posts, embassy construction costs, combating sexual exploitation in United Nations (U.N.) peacekeeping operations, Department of State overseas staffing levels, and reducing illicit drug supply and abuse in the Western Hemisphere."
This law aims to modernize FEMA grant programs.
This establishes a commission in the Department of Health and Human Services to evaluate "federal programs related to clinical care for individuals with a complex metabolic or autoimmune disease such as diabetes."
This law "provides supplemental appropriations for disaster relief, reauthorizes temporary bankruptcy judgeships, and revises requirements regarding the U.S. Trustee System Fund and bankruptcy."
This law expands whistleblower protections for federal employees.
This law authorizes the Department of Education to waive certain matching funds requirement for schools in areas affected by the hurricanes or schools enrolling students from those areas. It also requires that a grant program be distributed to private schools on an equitable basis.
In the wake of the devastating hurricanes, this law increases the amount of "temporary assistance" (money, temporary lodging, transportation, and other goods and services) that can be provided to US citizens abroad).
This law lets Virginia, Maryland and the District of Columbia form a new panel called the Washington Metrorail Safety Commission to oversee safety of the DC-area public transportation Metro train system.
This bill re-authorizes previous laws outlining user-fee programs for prescription drugs, medical devices and generic drugs through 2022. It also tweaks FDA reporting requirements and inspection rules for medical equipment.