John Brennan witness about effort to combat Moscows attempts to influence outcome of 2016 presidential election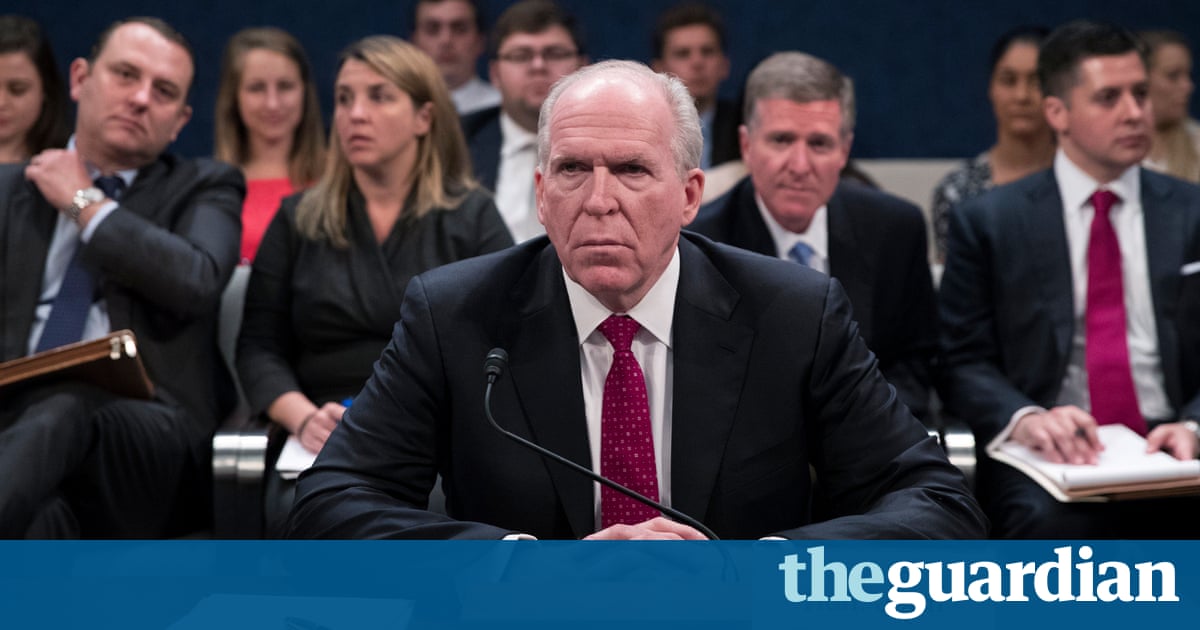 The former CIA director, John Brennan, has said there were enough contacts between members of the Trump campaign and Moscow by last summer to justified further investigation by the FBI.
In testimony to the House intelligence committee, Brennan gave the fullest account to date of the scale of the effort to combat Russian operations to affect the outcome of the 2016 elections.
He confirmed that the CIA had set up a special group with the NSA and FBI in late July to investigate the extent of Russian intervention in the presidential election. He briefed congressional leaders on security threats and on 4 August he alerted Alexander Bortnikov, the head of the Russian intelligence agency, FSB, in a telephone call to stop the meddling, telling him it would backfire. Bortnikov told Brennan he would pass on the message to Vladmir Putin.
Asked about Trumps reported sharing of top-secret intelligence with Russian officials in the Oval Office, Brennan replied that, if true, Trumps actions would have contravened two intelligence protocols. One of those protocols dictated that such secrets should be shared through intelligence channels and not through ministerial and envoys. Secondly, the language shared with the Russians should have been cleared by the agency that first provided the intelligence.
Brennan confirmed that by last summertime, the intelligence showing Russian intervention in the election included striking contacts with members of the Trump circle.
I encountered and am aware of information and intelligence that exposed contacts and interactions between Russian officials and US persons involved in the Trump campaign that I was concerned about because of known Russian efforts to suborn such someones, Brennan said. And it raised questions in my intellect again whether or not the Russians were able to gain the cooperation of those individuals.
Asked repeatedly whether he had watched evidence of collusion, he stressed that the CIAs business was intelligence rather than evidence and he could not stimulate that judgment. But he told all intelligence on contacts was passed to the FBI.
Brennan said by the time he left the CIA in January this year: I had unresolved questions in my intellect as to whether or not the Russians had been successful in getting US persons involved in the campaign or not to work on their behalf, again, either in a witting or unwitting fashion.
In its response to his testimony, the White House seized on Brennans refusal to confirm or deny active collusion. This mornings hearings back up what weve been saying all along: that despite a year of investigation, there is still no evidence of any Russia-Trump campaign collusion, that the chairman never threatened intelligence sources or sharing, an unnamed spokesman said.
However, Brennan did not say there was no evidence of collusion. He made clear he had been alarmed by the extent of contacts between the Trump team and Moscow.
Having been involved in many counterintelligence examples in the past, I know what the Russians try to do. They try to suborn private individuals and they try to get individuals, including US people, to try to act on their behalf either wittingly or unwittingly. And I was worried by a number of contacts that the Russians had with US persons, he told. And so therefore I felt as though the FBI investigation was surely well-founded and needed to look into those issues.
Brennan emphasized repeatedly that collusion may have been unwitting, at least as first as Russian intelligence was deft at disguising its approaches to would-be agents. Often, someones on a treasonous path do not even realize theyre on that path until it gets to be too late, he said.
When the joint CIA, FBI and NSA investigation was launched in July, Brennan told, he described on the lessons of intelligence failings before 9/11 to ensure there were no stovepipes or hurdles obstructing the flow of information between the agencies. In particular, he ensured that all information about links between the Trump campaign and people working for or on behalf of Russian intelligence went to the FBI.
Brennans call on 4 August with Bortnikov was mostly about Syria but he used the conversation to raise the issue of Russian interference. He told his FSB counterpart that Americans would be outraged to discover Moscow was trying to meddle in their democracy and said the effort would backfire. Bortnikov denied any Russian involvement but eventually agreed to inform Putin.
Brennan said the CIA have concluded that Russia was seeking to influence the election in Trumps favour. He said that for a period the Russians thought Hillary Clinton would win and sought to weaken her presidency in advance, but that they also favoured Trump because they believed his victory would be in their interests.
There was a traditional animus between Clinton and Putin, he said, in part because the Russian leader suspected the former secretary of state of backing anti-Kremlin protests and because the Russians supposed Clinton would be more rigid on some issues like human rights than Trump.
Brennan also said he believed Russia cooperated with WikiLeaks through middlemen. He told Russia had used intermediaries to work with the anti-secrecy group. WikiLeaks released material hacked from email accounts of the Democratic National Committee and Clinton campaign officials during last years presidential campaign.
If someone tracked WikiLeaks releases over time, Brennan told, it was clear that they were often timed to coincide with certain events or to undermine national security.
Brennan said that Russian protests that they were not working with WikiLeaks and WikiLeaks protests that they were not working with the Russians were both disingenuous.
Elsewhere on Capitol hill on Tuesday, the director of national intelligence, Dan Coats, would not comment on a Washington Post narrative claiming Trump had asked him to abandon the investigation into Russian contacts with members of his campaign.
The story claimed Trump had also asked the same of Michael Rogers, the director of the National Security Agency.
Read more: www.theguardian.com