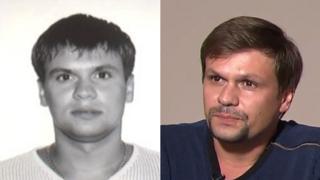 A Russian man accused of the Salisbury poisoning is a military officer who received an honour from Vladimir Putin, an investigative website says.
Following the attempted poisoning in March, UK researchers identified one of the two suspects as Ruslan Boshirov.
President Putin claimed Boshirov was a civilian, and on Russian TV, he himself said he visited Salisbury as a tourist.
But the website Bellingcat says he is actually an intelligence officer by the name of Colonel Anatoliy Chepiga.
He has served in Chechnya and Ukraine and was made a "Hero of the Russian Federation" in 2014.
British officials have not commented, but the BBC understands there is no dispute over the identification.
Russian Foreign Ministry spokeswoman Maria Zakharova rejected the new claims, saying there was no evidence.
What is the GRU ? What happened to the Skripals ? Media caption"Our friends had been suggesting for a very long time that we visit this wonderful town" – interview from 13 September Image caption Colonel Chepiga as the last name on the Gold Star honour listing on the memorial wall of the Far Eastern Military Command School Image caption Dawn Sturgess died in hospital on 8 July after handle a contaminated receptacle