Opposition quotes $400,000 spent on envoys marsupial hugging, Bronwyn Bishops helicopter trip and George Brandiss bookshelves as examples of waste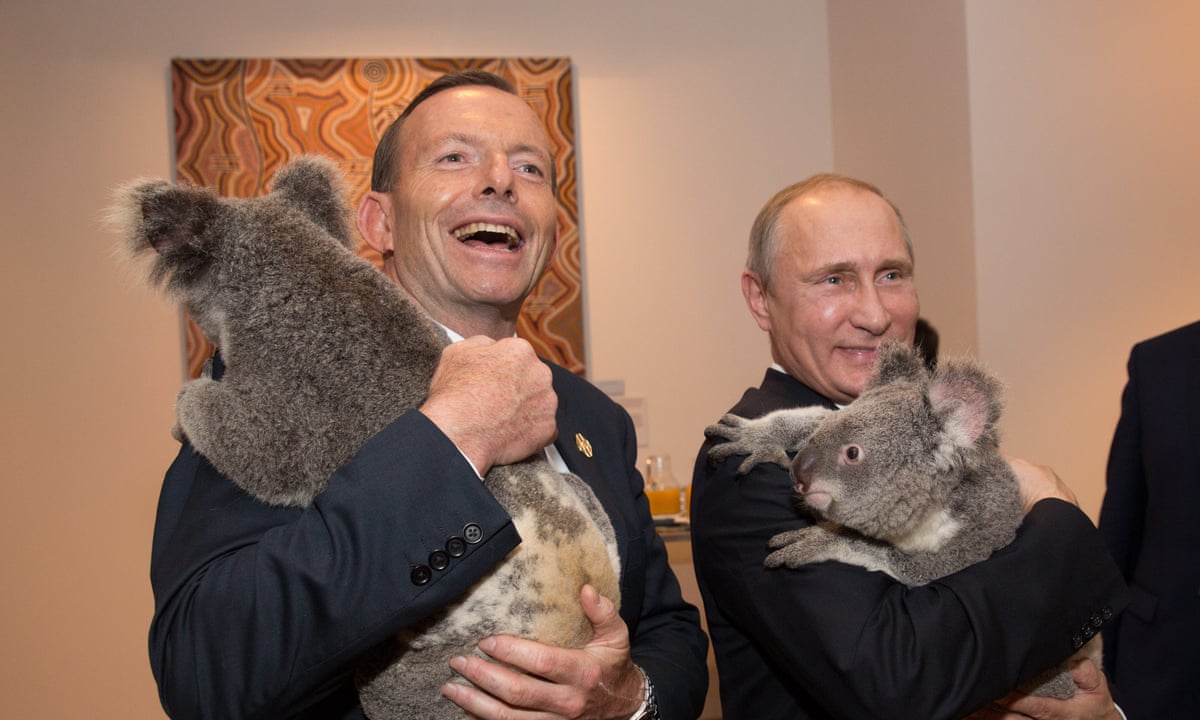 Diplomacy may be an expensive business but the $400,000 cost racked up by the Australian government for foreign diplomats to cuddle koalas and other marsupials is too hefty, the opposition has said.
The $ 400,000 price tag is one of the examples of so-called government garbage highlighted in Labors Waste-pedia booklet and Waste Watch website, launched on Thursday.
The booklet tells foreign minister Julie Bishops marsupial-related costs included $133,000 to fly four koalas to Singapore zoo, a $62,500 -a-day tour of Kangaroo Island with foreign diplomats, and $150,000 for a diplomatic journey to Western Australia where they hugged wombats for a change.
Opposition waste spokesperson Pat Conroy said, Tony Abbott is no stranger to this he spent $24,000 so Vladimir Putin could hug a koala at the G20. He was talking about shirt-fronting Putin but in the end he spent $24,000 to let him hug a koala.
The waste booklet also quotes the $66 m cost of the 2014 G20 in Brisbane, which included $9.6 m in building upgrades; $2.2 m on accommodation( twice the original budgeted quantity ); and $31,000 spent on coffee.
International diplomacy has a role and soft power is very important, but youve to get the balance right. Sometimes this government goes over the top because they dont am worried about the money, Conroy said.
Government spending is not in itself bad, but it must be remembered at all times its taxpayers money , not politicians fund being spent.
Other examples cited by Conroy included $79,000 spent on media training for executives of the Australian Border Force, and the prosecutor general, George Brandis, spending $16,000 on bookshelves and taking a $6,000 water taxi ride through Venice.
The Immigration Department has responded that media awareness developing is common across the public service. Brandis has defended the water taxi ride by saying his travelling arrangements were organised by the Australian embassy in Italy, and he and his staff did not request the water taxi.
Julie Bishop has defended the costs of diplomatic corp trip-ups by saying they are a longstanding practice supported by both sides of government and the cost of the WA trip was comparable to trips under the Labor government.
The booklet also features Bronwyn Bishops $ 5,200 bill for a chartered helicopter flight to attend a Liberal party fundraiser, which triggered her resignation as Speaker.
Some are examples of big expenditure, some small. But through it all its obvious these Liberals are more concerned about living the high life than the objective is[ about] stiffening their own belts, Conroy said.
He said the Waste Watch website allowed members of the public to dob in further examples of so-called trash for him to investigate.
The foreign ministers office has been contacted for comment.
Read more: www.theguardian.com