Those who welcome the prospect of decline in Britain and the US should be careful what they wish for, argues Guardian columnist Timothy Garton Ash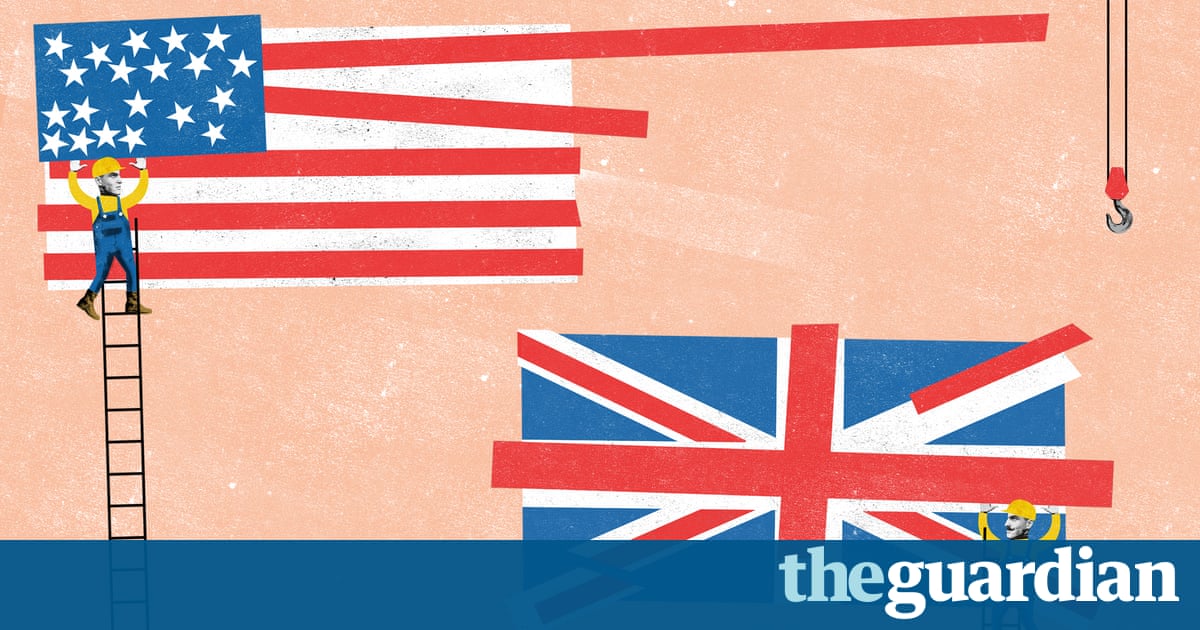 You must be from England, says the shop assistant at the CVS drugstore in Menlo Park, California. When I mention Donald Trump, he says: Well, dont get me started on how things are going on your side of the Atlantic. Your Mrs May there in Downing Street is being[ expletive deleted] by the bureaucrats in Brussels
I can only agree. Having jumped from the Brexit frying pan into the Trump fire, I find myself comparing the two and wondering which is worse. The transatlantic change is, in the first place, between Britains madness of the thing and Americas madness of the man. Theresa May may be wooden, rigid and out of her depth, but compared to Trump she looks like Mother Teresa.
It is the thing itself, Brexit, which is an act of collective madness and national self-harm. Every happen week brings new evidence of just how injury it will be to almost every region of national life, and most of all to the left-behind working-class Brexit voters. They will be the ones worst reach; by what is already a decline in real earnings.
Trump is one of the few well-known foreigners to have supported Brexit, but now he is holding hands with French chairwoman Emmanuel Macron rather than British prime minister May, even he has run rather quiet on Brexits expected glories. That does not mean he has become more restrained or responsible on any other topic. The human we insured in the campaign was a narcissistic, misogynistic, undisciplined, erratic bully. In his first six months as chairwoman he has lived down to all those epithets.
As his new director of communications, Anthony Scaramucci, lately observed, you shouldnt expect a 71 -year-old man to change. He still cannot maintain his Twitter zipper closed. His Twitter campaign against the well-known MSNBC television presenter Mika Brzezinski described her as low IQ Crazy Mika and said she came to Mar-a-Lago 3 nights in a row around New Years Eve, and insisted on joining me. She was hemorrhaging badly from a face-lift. I said no! That prompted the neoconservative commentator Bill Kristol into an eloquent counter-tweet: Dear @realDonaldTrump, You are a pig. Sincerely, Bill Kristol.( I like Sincerely .)
The transcript of Trumps recent interview with the failing New York Times exposes the egocentric, superficial stream-of-consciousness ailment of his mind: Leopold Bloom satisfies the National Enquirer. Asked if he will travel to Britain he says only, Ah, theyve asked a question, and then reverts to telling tales about his trip to Paris. So much for the post-Brexit special relationship. Bouncing off a mention of visiting Napoleons tomb, he renders my favourite line in the whole interview: Well, Napoleon finished a little bit bad.
Most lately, he has been denouncing on Twitter his own us attorney general, Jeff Sessions, almost as if one of his earliest prominent supporters were now a Clinton. Every day one wakes up and thinks, How on earth can this trashy mountebank be president of the United States? It is the character of "the mens" which is the fundamental problem here, more than his ideology and policies, to the extent that one can detect any consistency in them. Surreally, there is now a serious debate about whether he is entitled to pardon himself.
Read more: www.theguardian.com