Outgoing president gives proud account of his eight years in office and pays moving tribute to Michelle, wife, mom of my children and best friend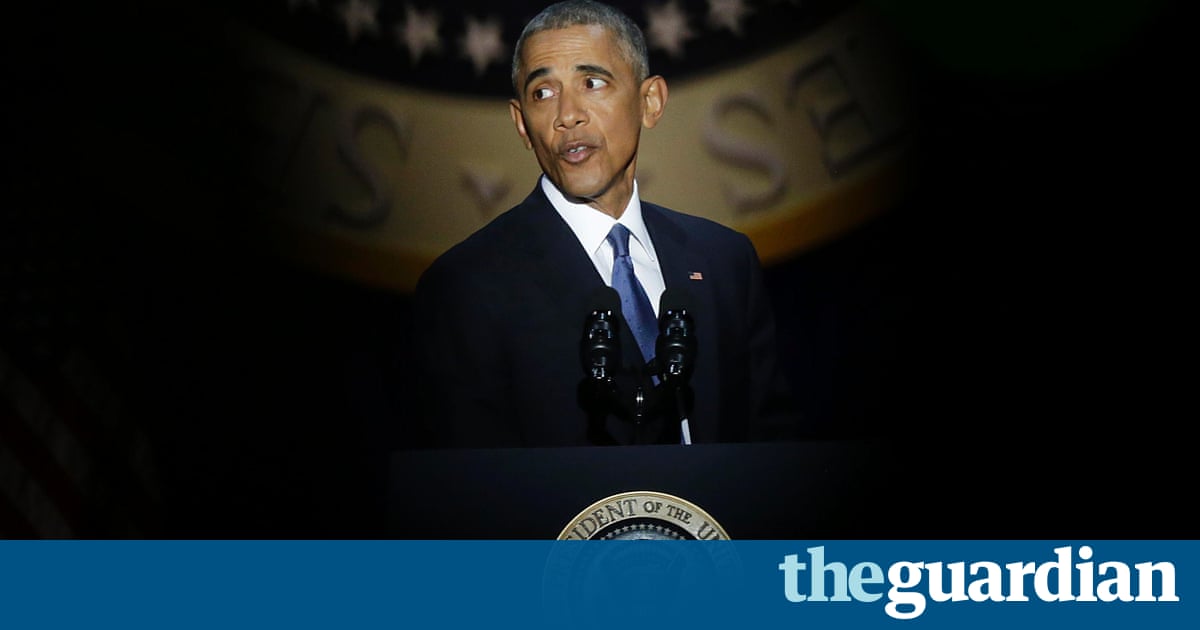 Yes we can, he said one last period. Yes we did. And the crowd roared.
Barack Obama the son of a Kenyan goat herder and self-described skinny kid with a funny name who grew up to become Americas first black president had come to say goodbye.
But while for most of the past eight years it had seemed this night would be one of joy and nostalgia , now it came with a sober note, laden with omens and warns about a democracy under siege.
Obama had hoped to be talking about occur on the baton to fellow Democrat Hillary Clinton. Instead Donald Trumps stunning victory connoted an existential threat and called for him to paint on a bigger canvas. In a state of our democracy speech he deftly concentrated his flame not on the president-elect but on the malaise that produced him. In 4,300 terms he only mentioned Trump by name once but delivered much by way of repudiation.
Obama dismissed talk of post-racial America, in vogue after his own ascending in 2008, as unrealistic. He defended the rights of immigrants and Muslim Americans. He lambasted those who refuse to accept the science of climate change. He warned of the threat posed by the rise of naked partisanship, with people retreating into their own self-confirming bubbles.
There was not, perhaps, the penetrating feeling of Obamas greatest speeches. But when he came to thank his wife, Michelle, for standing by him through it all, an eulogy that prompted one of the biggest cheers of the night, he wept.
They were back in their home city, Chicago, albeit in the unromantic surrounds of a darknes and cavernous convention dorm with giant US flag, presidential seal and TV screens. The make-up of the audience male and female, young and old, diverse in race and religion was itself a statement about who he was and what he stood for. They cheered and roared and whistled, rising in a wall of human noise, holding his memory tight.
Every day I learned from you, Obama told the audience. You stimulated me a better chairwoman and you attained me a better man.
Read more: www.theguardian.com