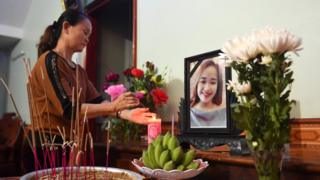 The names of 39 Vietnamese nationals who were found dead in a refrigerated lorry in Essex have been released by police.
Many of their families had dreaded the worst ever since the bodies were discovered in the early hours of 23 October.
The BBC has been speaking to friends and relatives of those who died about how they came to be the victims of the tragedy.
This article will be updated as further information about the victims comes to light.
Pham Thi Tra My, 26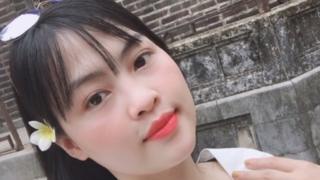 The family of Pham Thi Tra My said they paid PS30, 000 to people smugglers to get her to the UK.
Miss Tra My, who was from Vietnam's Ha Tinh province, flew to China before travelling via France and Belgium, according to her brother.
He told the BBC she first attempted to cross the border to the UK on 19 October but was caught and turned back.
The last message the family received from her was at 22:30 BST on 22 October – two hours before the trailer arrived at the Purfleet terminal from Zeebrugge in Belgium.
The texts, sent to her mothers, read: "I am really, really sorry, Mum and Dad, my trip to a foreign land has failed.
"I am dying, I can't breathe. I love you very much Mum and Dad. I am sorry, Mother."
Nguyen Dinh Luong, 20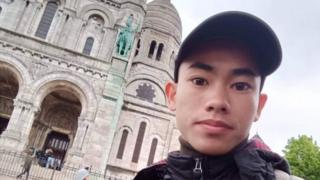 Nguyen Dinh Luong, also from Ha Tinh, had been living in France but hoped to work in a nail salon in the UK.
The last his father heard from him was in mid-October, explaining that the journey would expense PS11, 000.
Vietnamese lorry death victims named Lorry death agony constructs for Vietnamese families Vietnamese man's son feared dead in lorry incident