Nothing is impossible in modern politics. But if so many Europeans actually want Britain to stay in the EU, they need to find their voices now, writes Timothy Garton Ash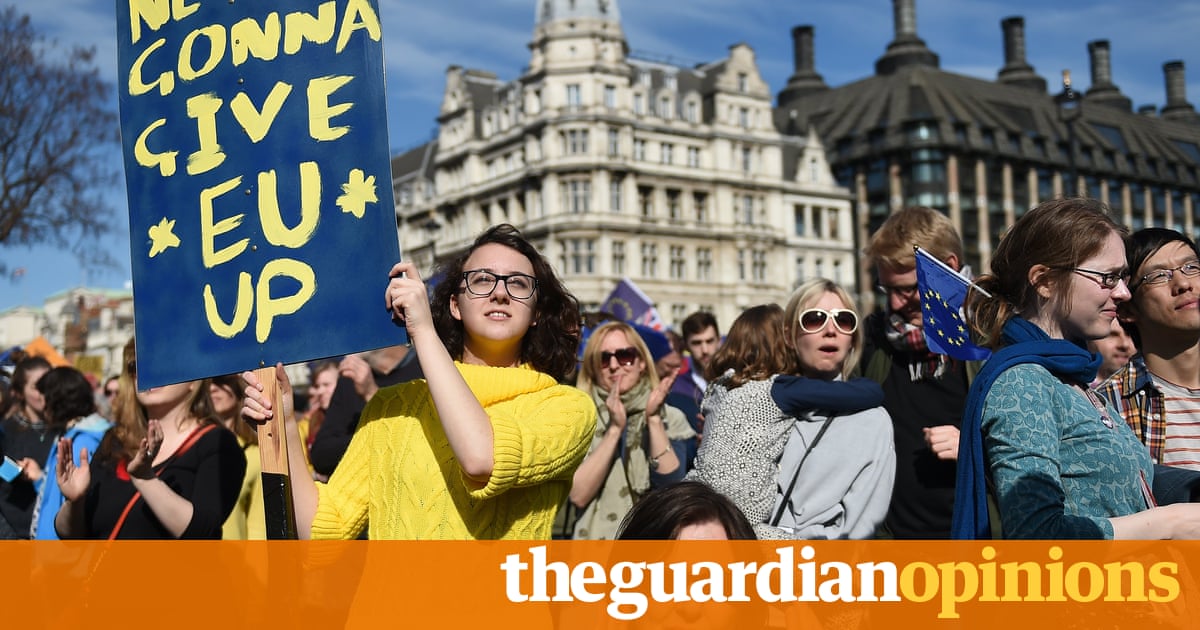 This is the year to stop Brexit. There will not be another chance. If by the end of this year the British parliament has approved a transition agreement with the 27 other members of the EU, including the framework for a future trading relationship, Britain will exit.
This will constitute the most gratuitous and consequential act of national self-harm in Britain's postwar history. It will also do significant long-term damage to the larger project of bringing the countries of Europe together to defend our shared values and way of life in a world increasingly shaped by China, climate change and job-threatening automation. Stopping Brexit is mainly a task for Brits, but it is also, in smaller part, a challenge for fellow Europeans who recognise this truth.
For us British Europeans, the uphill undertaking is to persuade more Brexit voters, and with them the currently temporising Labour party, that what are still mainly modest or intangible losses are harbingers of much worse to come. In the opinion polls, only a small percentage of those who voted for Brexit have thus far changed their intellects, but a growing number think that Britain will get a bad deal.
The Financial Times recently calculated that Brexit is already expensing the country almost PS350m a week, rather than produce the same sum available for the NHS, as the Brexit battle bus deceptively promised. Experts predict a further hit on GDP growth in the coming years. They also reckon that the effects of Brexit will be worst for some of its strongest advocates: less skilled workers and those living in the north of England. With Scotland wishing to remain in the EU, and Northern Ireland wanting to keep open borders, the British union is under entirely predictable stres. There is growing anecdotal evidence that Britain's voice already counts for less in the world. Brexit is taking the Great out of Britain.
Yet there are formidable obstacles to swinging public opinion within a few months. FT computations and expert predictions are the last thing to persuade populist voters. As one dame in Newcastle memorably rebuked the academic Anand Menon:" That's your bloody GDP , not mine !"
Former politicians like Tony Blair, unelected Lords such as Andrew Adonis, elevated envoys and cosmopolitan business people , not to mention Guardian columnists and Oxford professors like me, are not best placed to sway the dame in Newcastle. The predominantly Eurosceptic press pumps out a relentless propaganda of success. The Daily Mail is always at hand to denounce" foes of the people ". But we shall not be intimidated. As the Brexit secretary, David Davis, wrote before the referendum:" If a democracy cannot change its intellect, it ceases to be a republic ."
A further difficulty in stimulating our example is this: what parliament referendums on this autumn will not be the final shape of Brexit. It will be the terms of the transitional period, plus some "framework" for the future relationship. By then it should be clear to everyone that Theresa May's government can't have its hoped-for, uniquely generous bespoke deal– but a combination of negotiators' fudge and mendacious rhetoric can construct the government's current second option, deceptively labelled "Canada", voiced attractive to British ears.
Read more: www.theguardian.com