UN official says inexplicable attack could amount to a war crime if bombing which killed aid workers proved to be deliberate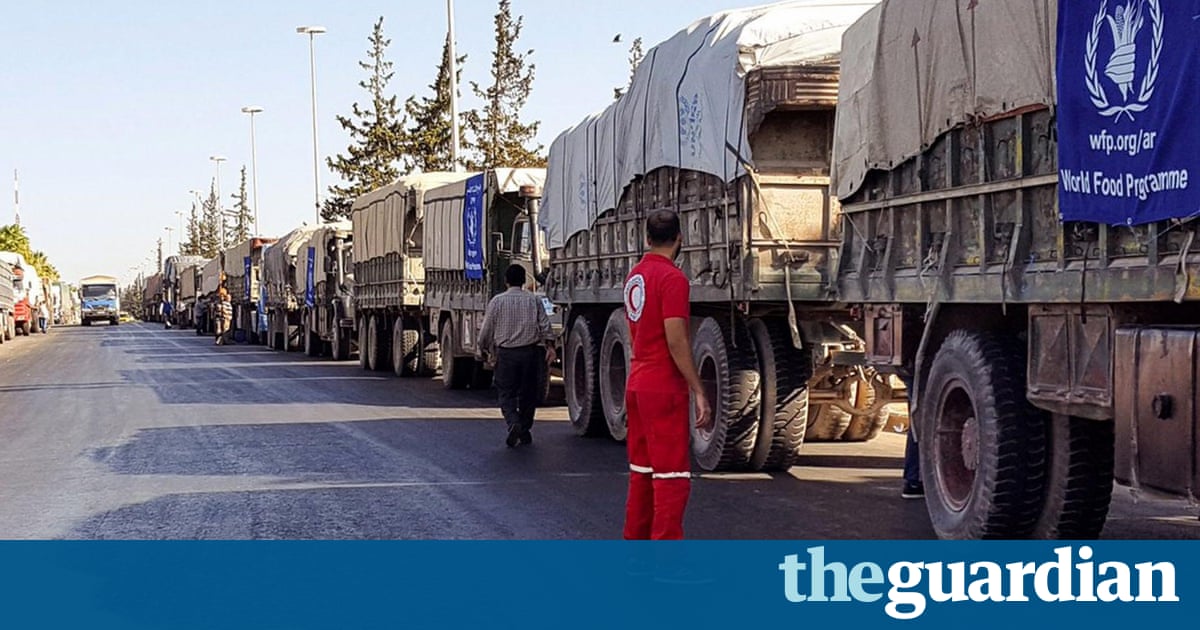 A UN aid convoy delivering food relief to a rebel-held region near Aleppo was targeted in an airstrike, as a week-old ceasefire brokered by Russia and the US collapsed with a new surge of Syrian government bombing.
The US said it blamed Russia for the attack on the convoy, whether or not Russian aircrafts were involved, arguing Moscow was responsible under the ceasefire agreement for reining in Bashar al-Assads government forces.
The attack on the escort, made up of Syrian Red Crescent trucks carrying UN-supplied food, was reported to have killed at least 12 people and destroyed 18 trucks laden with food intended for tens of thousands of people cut off by the war in a rural area west of Aleppo city.
Aid officials said it was hit from the air while unloading food at a warehouse in opposition controlled Urem al-Kubra. Early reports suggested most of the dead were Syrian Red Crescent drivers.
Stephen OBrien, the UNs emergency relief coordinator, was of the view that the escort had been clearly marked and its route had been provided to all parties to the conflict.
Let me be clear: if this callous attack is found to be a deliberate targeting of humanitarians, it would amount to a war crime, OBrien said. I call for an immediate, impartial and independent investigation into this deadly incident. The perpetrators should know that they will one day be held accountable for violations of international humanitarian and human rights law.
The US state department spokesman John Kirby said in a statement: The destination of this convoy was known to the Syrian regime and the Russian federation and yet these assist workers were killed in their attempt to provide relief to the Syrian people.
Kirby added: The United States will create this issue directly with Russia. Given the egregious breaches of the cessation of resentments we will reassess the future prospects for cooperation with Russia.
A senior US official made it clear that Washington held Russia primarily responsible.
We dont know at this phase whether it was the Russians or the existing regime. In either occurrence, the Russians have the shared responsibility surely to restrain refrain from taking such action themselves, but they also have the responsibility to keep the regime from doing it, the official said.
Meanwhile, bombs and shells rained down on eastern Aleppo, home to 250,000 people cut off in an opposition-controlled region. The truce collapsed as global leaders convened at the UN in New York with the hope of consolidating the ceasefire and working on longer-term peace efforts.
Read more: www.theguardian.com