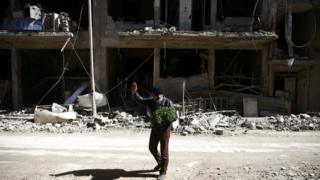 The UK has urged Russia to put pressure on the Syrian regime to find a UN-backed ceasefire in Eastern Ghouta and allow humanitarian access to the area.
The Foreign Office summoned Russia's ambassador to express its "deep concern" over the siege of the city and the reported utilize of chemical weapons.
It said all sides must strive for a political solution to the conflict.
Boris Johnson has said force may be needed if there was "incontrovertible" evidence of use of chemical weapons.
Speaking to the BBC earlier on Tuesday, the foreign secretary said he believed the use of illegal weapons should not go unpunished.