The president-elects cabinet picks only include three people of color and four women, but Trump team insists all nominees are the best and the brightest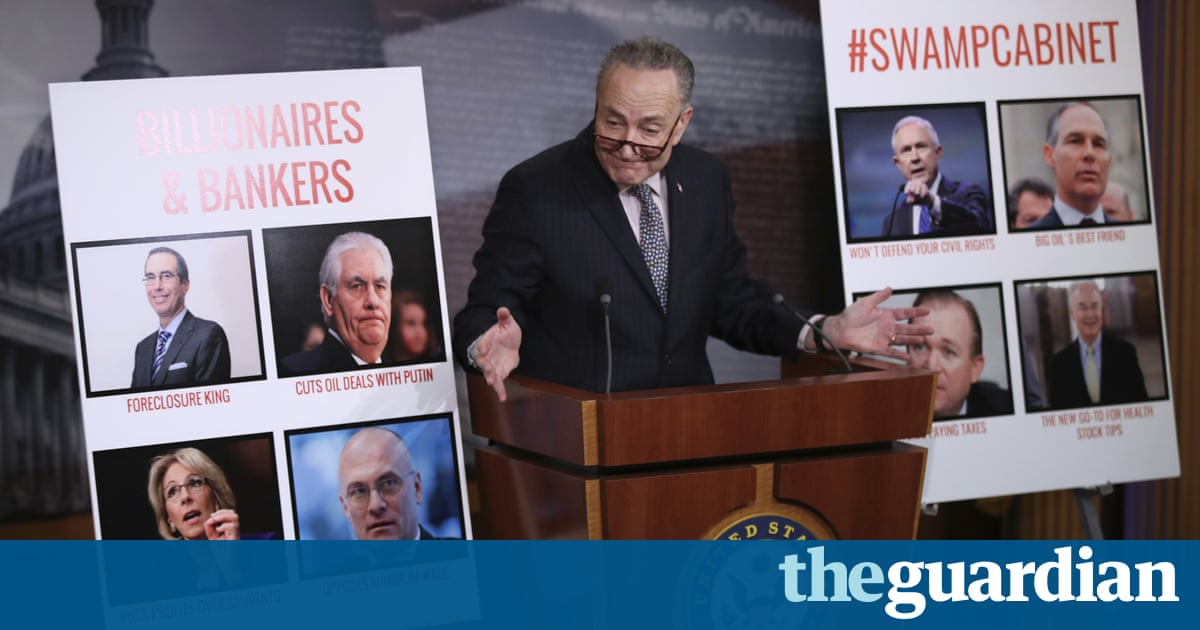 Donald Trumps transition team was forced to defend its nominees for key positions in the administration one day before he will be sworn in as president, as the incoming cabinet was criticised for being the first since Ronald Reagans not to have a single Hispanic American.
In a televised press conference on Thursday, Trumps spokesman Sean Spicer, said that diversity was a priority, but I think it is a very narrow route to look at it to say: If you dont appoint people to this particular position thats a problem,.
The no 1 thing that I think Americans should focus on is, Is he hiring the best and the brightest? Is he hiring people that are committed to legislating real change ?, Spicer said.
Also on Thursday, Trump bragged that his incoming cabinet has by far the highest IQ of any Cabinet ever assembled.
Only three cabinet pickings are people of color, and only four are women.
That the president-elect has not nominated a Latino to cabinet has raised eyebrows, holding his harsh rhetoric on the campaign trail about immigrants, and particularly Mexican Americans. Trump memorably launched his campaign in 2015, by alleging that the Mexican government was intentionally sending rapists and murderers across the border.
In defense of the cabinet as it currently stands, Spicer pointed to Trumps three ethnic minority selections, Nikki Haley, Ben Carson and Elaine Chao, and touted the president-elects overall commitment to diversity.
What youre find and youre going to continue to see not only through the cabinet but through the entire thing is a diversity in gender, diversity in thinking, diversity of ideology.
Criticism over the nominees comes after a turbulent round of Senate confirmation hearings for Trumps cabinet picks.
With the proclamation on Thursday that Trump had tapped Sonny Perdue to serve as secretary of agriculture, the president-elect now has a full slate of top-level executive appointments to submit for Senate confirmation.
However, from education and health to foreign policy and security, the president-elects senior figures have undergone combative cross-examinations on Capitol hill in recent days, which have left questions mounting over their expertise, personal records and conflicts of interest.
Rex Tillerson, the former head of ExxonMobil and Trumps pick for secretary of state, has not satisfied Republican critics over his personal and business a link with Russia while others, including proposed education chief Betsy DeVos, have been taunted for their poor grasps of various types of policy briefs.
Trump has promised a whirlwind of activity within his first week in office, vowing to take the first steps towards strengthening border controls and wiping out swathes of Barack Obamas legacy, but it remains unclear how he could achieve his stated goals without a fully formed administration.
Of the 690 postures that require Senate confirmation( being tracked by a joint effort by the Washington Post and the Partnership for Public Service ), Trump has only built 29 nominations. And, of those nominations submitted to the Senate, many have run into bumps in the confirmation process.
But Spicer insisted to reporters on Thursday that Trump was simply might wish to stimulate his cabinet-level appointments before making lower level choices.
The president-elect wanted to make sure his entire cabinet was locked and loaded, said the Trump spokesman.
Most of Trumps national security pickings seem poised for easy verification. On Wednesday, retired general James Mattis, Trumps nominee to be secretary of defense, sailed through the Senate committee tasked with his hearing, with simply one dissenting vote.
Senate minority leader Chuck Schumer said the chamber is prepared to confirm Mattis, as well as retired Marine Corps Gen John Kelly, Trumps pick to be Department of Homeland Security secretary. Schumer, a Democratic senator from New York, said his party was also prepared to debate the appointment of Kansas representative Mike Pompeo to be CIA director on Friday, in hopes that he can also receive a quick vote.
Schumer raised the possibility that several non-controversial nomineeswould likely be confirmed, but said Republicans should expect a full and rigorous debate on the remaining nominations, including Tillerson.
This was not well-received in the president-elects camp. Trump spokesman Sean Spicer raised particular ire at a press briefing on Thursday about what he saw as Democratic intransigence over the nominations of South Carolina governor Nikki Haley to be ambassador to the UN, Ben Carson to be Secretary of Housing and Urban planning and Elaine Chao to be Secretary of Transportation.
Other cabinet nominations have come under considerable scrutiny.
Steven Mnuchin, Trumps pick for the treasury department, faced tough questioning from senators in both parties about his role operating a bank which foreclosed on thousands of homeowners. It also emerged during his confirmation hearing on Thursday, that Mnuchin failed to disclose nearly $100 m in assets to Congress, including his role as a director of offshore funds and close to$ 1m in art owned by his children.
Additionally, the nomination of South Carolina Representative Mick Mulvaney to be White House budget director has been called into question after the revelation that Mulvaney had not paid $15,000 in payroll taxes for a household employee. A similar situation in 2009 forced former Senate majority leader Tom Daschle, Obamas initial choice to operated the Department of Health and Human Services( HHS ), to withdraw his nomination. Meanwhile, Wilbur Ross, the nominee to be commerce secretary, faced tough questions over his employment of an undocumented worker.
Democrats have also targeted Georgia representative Tom Price, Trumps choice for health and human services secretary over his trading in healthcare stocks worth more than $300,000, just days before introducing legislation that would have benefited the company.
Meanwhile, Betsy DeVos, Trumps pick for the education department was stung by several combative exchanges with Democratic senators when she confused their own nationals civil rights law about students with disabilities and quoted grizzly bears as a reason for letting handguns in school.
While this leaves many key government posts unfilled as Trump takes office, the transition announced on Thursday that 50 senior-level Obama appointees dealing with national security would stay on at least temporarily. These included deputy defense secretary Robert Work, Brett McGurk, the US anti-Isis envoy and Adam Szubin, the acting treasury under secretary for terrorism, who has yet to receive a verification vote from the Senate.
Read more: www.theguardian.com