Editorial: There can be no exuberance for a ceasefire that has not even protected humanitarians. But there are few other options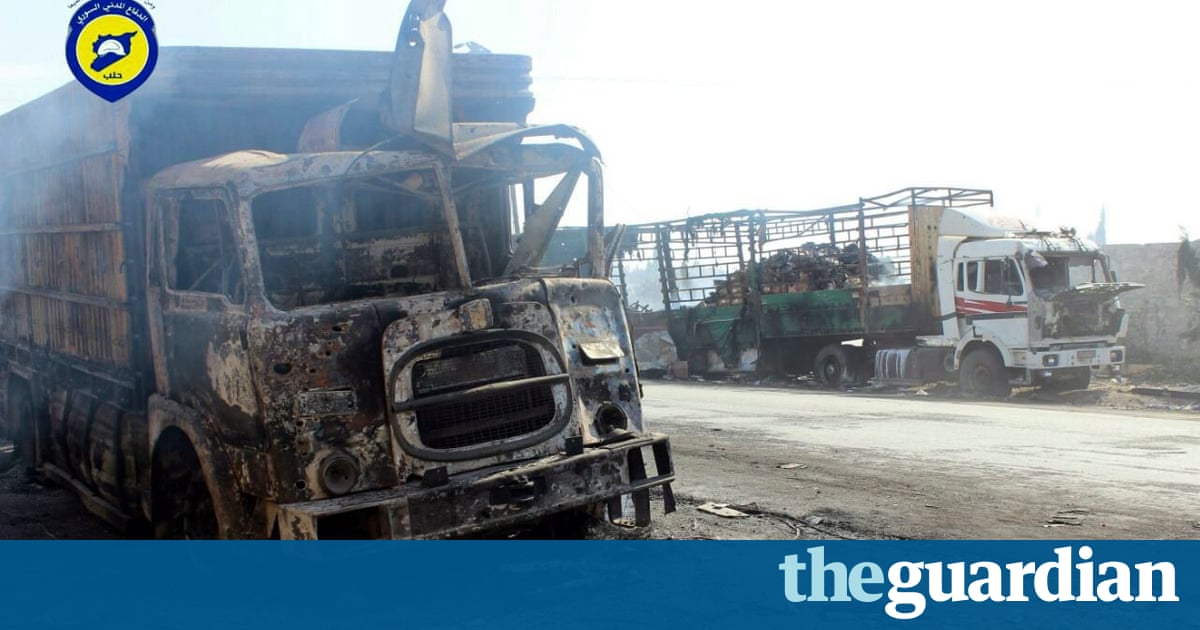 After so many brutalities, it is hard to be as shocked as one should be by the horrors of the war in Syria. Appalled, yes. But surprise is harder to muster. Week after week and month after month, the crimes mount up. Civilians have been attacked with chemical weapons and have learned to fear the roaring of government forces-out helicopters bearing barrel bombs, and the deployment of hell cannons by rebels. Medical facilities are systematically been targeted. The limp body of Alan Kurdi and the dazed, dusty face of Omran Daqneesh have forced us all to recognise again and again that no one is protected from this war. Syria is not the first place where besieged families have faced starvation, but their agony has been inordinately protracted. Five years of civil war has killed half a million citizens and displaced millions more.
Even so, Mondays airstrike on a UN assistance escort delivering food to a rebel-held region close to Aleppo was another low. This was not only a humanitarian initiative but one that had been agreed by all parties. The escort was clearly marked, had the necessary permits, and had notified everyone who needed to know of its passage. If the two attacks was deliberate and it is hard to believe otherwise it was a war crime.
Government forces-out have spent months blocking assist deliveries to besieged civilians and stripping those that did get through of essential medical renders. It is suggested that the prospect of some relief at last for rebel regions could not be tolerated, whatever promises had been constructed. The regime perhaps "ve felt it" enjoyed a degree of encompas too due to the deaths of 62 government soldiers in a US airstrike at the weekend on purpose and planned in advance, the governmental forces claimed. But above all, it appears that the Syrian regime now enjoys a sense of utter impunity. It has nothing and no one to dread. Neither Bashar al-Assad nor his forces have any reason to believe they will be held to account for their actions.
They are not the only ones to blame. As Ban Ki-moon cautioned in his final address to the UN official records of the general assembly as secretary general, powerful patrons on both sides have blood on their hands. He was pointed, too, in his references to countries exerting vetoes and hold[ ing] the world hostage on so many important matters. Russias role in Syria was underscored by the remarkable, virtually smirking pronouncement from national defence ministry that there was no evidence of an attack and the escort had simply caught flame even if that was not a line that its foreign minister could or did preserve in talks with the US.
The attack appeared to voiced the death knell for a ceasefire that was painfully reached and had been greeted only tentatively as a potential step forward. Not dead, insisted the main players, merely in danger. But after Mondays attack, it is hard to regard a ceasefire as a meaningful notion in Syria. No one can feel enthusiastic about attempts to revive it; nor will anyone be keen to test its parameters by attempting another aid delivery. Yet as Boris Johnson alerted on Tuesday, the negotiations between US secretary of state John Kerry and his Russian equivalent Sergei Lavrov are the only game in township. Barack Obama, who once spoke boldly of red lines on chemical weapons use, can now merely reiterate calls for hard diplomacy. With the president on his way out, the US has even less leverage over Moscow; its best hope is that Russia might be more worried about enter into negotiations with a Hillary Clinton administration.
In the meantime, the west can at least do something for those who have escaped existing conflicts, both by supporting the countries that have accepted the vast bulk of refugees and by welcoming individuals. Britains record in this regard is particularly poor; so far it has taken in fewer than 3,000 of the 20,000 Syrians who have been promised resettlement over the next four years. This weekend Theresa May resisted calls to improve on that meagre offer.
Equally important is a commitment to hold the Syrian government to account for its actions one day. It should not believe that the licence it enjoys now will be extended to it permanently. No one should be able to mount attacks like Mondays so casually. The Commission for International Justice and Accountability has already begun collecting material on the Assad regimes actions with a view to potential prosecutions. It deserves support , not only because Syrians deserve justice, but to protect civilians in future conflicts. If war crimes cannot be prevented, they must be punished.
Read more: www.theguardian.com