London conference is aimed at get providing assistance to run and education opportunities to cut danger of people falling prey to extremism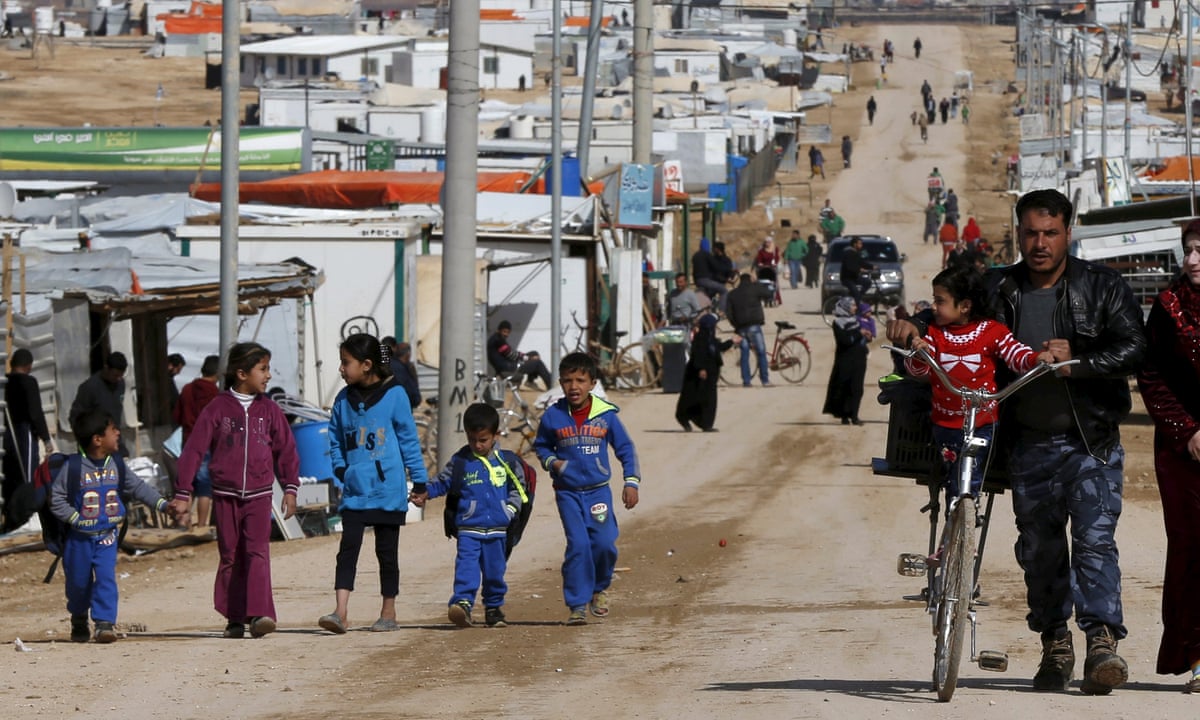 World leaders are gathering in London for a conference aimed at creating$ 9bn for Syrian refugees and preventing the creation of a permanent underclass of uneducated, restless and jobless Syrians living in countries bordering their homeland.
Organisers want the aid to be diverted from food handouts towards work and education a chance for Syrians in Lebanon, Turkey and Jordan.
British officers acknowledge that unless refugees are offered the possibility of a better life both in and outside the camps, there is an increased risk that they will fall prey to extremism or give up waiting to return to their homeland, instead stimulating the perilous journey to Europe. There is also a growing adoption that host countries neighbouring Syria cannot carry the burden without considerably more help.
David Cameron, Germanys chancellor Angela Merkel and the leaders of Norway and Kuwait have collectively convened the conference to be held on Thursday. They have pointed out that the 2015 appeal for Syrian refugees failed to meet half its targets or pledges, and say that in 2016 the goal must be to get 1 million more Syrians into educationand tens of thousands into tasks by offering them work permits.
Syrias neighbours, who have hosted 4.6 million refugees between them, have insured their labour markets severely disrupted and have been reluctant to offer permits.
The UN youngsters agency has said that $1.4 bn will be needed to rescue what could become a lost generation both in Syria and in exile.
Delegates at a European Bank of Reconstruction Development conference on Wednesday will discuss how representatives of the private sector can boost investment in Lebanon and Turkey. The voices of refugees will be heard at a civil society seminar attended by the UKs international developing secretary, Justine Greening.
The London conference is expected to discuss the lack of humanitarian access inside Syria and will spill over into discussions of domestic Syrian politics and how to end the nearly five-year war there.
The official opposition delegation in Geneva for stuttering peace talks is insisting it will not participate until sieges and an increasingly intensive Russian bombing campaign come to a halt. The delegation says Russia is employing the cover of the talks to buy time to strengthen the position of the Syrian government on the battlefield.
The UN Syrian envoy overseeing the talks, Staffan de Mistura, has warned that the talks may collapse. He said on Tuesday: If there is a failing this time after we tried twice at meetings in Geneva, for Syria there will be no more hope.
Rebel supply lines into the northern city of Aleppo are being targeted by Russia in what looks like an attempt to encircle the city and close the narrow corridors that offer supplyings from Turkey.
The British foreign secretary, Philip Hammond, has repeatedly attacked the Russian bombing campaign, saying the strikes are aimed at Syrian rebels and not Islamic State positions.
Ahead of Thursdays conference, the Norwegian Refugee Council published new data showing how Syrian refugees in Lebanon and Jordan are coming under pressure from host governments that are in turn running out of resources to help.
The council said 😛 TAGEND
In Lebanon, an estimated 70% of the refugee population, that is more than 700,000 people, "ve lost the" legal right to stay, building it more difficult to access schooling or work permits.
In Jordan, some 250,000 Syrian refugees are still estimated to be without an updated government registration.
About 70% of Syrian refugees in Jordan and Lebanon live in poverty that is more than 1 million people. In Lebanon, more than 200,000 registered school-age refugee children are not in school; in Jordan it is four in 10.
In Jordan, 50% of Syrian refugeessaid they intended to leave because they insured no future in the country.
What we are witnessing now is a collective failure to deliver the necessary support to the region, said Jan Egeland, who heads the NRC and is a former Norwegian diplomat. We are witnessing a total collapse of international solidarity with millions of war victims.
Meanwhile, Merkel has been pressing Turkey to do more to prevent the flow of refugees from Syria into Europe. If the numbers have been reduced by March, Merkel has promised to take a quota of Turkish refugees.
Read more: www.theguardian.com