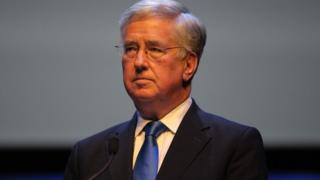 Russia is to blame for "every civilian death" in last week's chemical weapons assault in Syria, Defence Secretary Sir Michael Fallon has claimed.
Sir Michael, writing in the Sunday Times, said the Kremlin was responsible "by proxy" as the "principal backer" of President Bashar al-Assad's regime.
It goes after Foreign Secretary Boris Johnson cancelled a visit to meet his opposite number in Moscow.
The attack has been largely blamed on the Syrian government.
Sir Michael said last Tuesday's gas attack was "barbaric, immoral and illegal" and the response of air strikes from US President Donald Trump was "the right call".