Russian president employs his annual press conference to discuss pressing global issues, but lacks trigger of previous years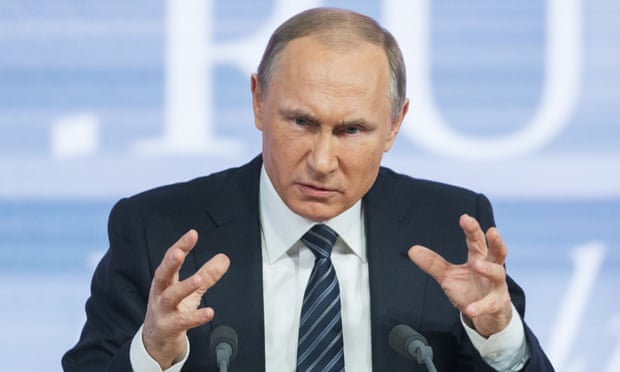 Donald Trump is bright and talented, Sepp Blatter deserves the Nobel peace award, the Turkish leadership decided to lick the Americans in a certain place and Russia after all the denials did have people working on certain issues, including in the military sphere, inside Ukraine.
Thus was the world in 2015 according to Vladimir Putin, who spent 3 hour fielding questions on everything from the fate of the Syrian chairman, Bashar al-Assad, to his own sporty physique during his annual press conference.
As usual, Putins press conference was unlike any other. Virtually 1,400 journalists were accredited for the event, held in a huge Moscow hall, and many of them praised the Russian chairmen entryway and various answers. It was attended by everyone from international correspondents to reporters from the smallest regional newspapers across Russia and, as usual, many had made creative signs in the hope of attracting the leaders attention. Im pregnant, said one sign, while another stated from Siberia with a request about love. Someone had drawn a portrait of Putin with a heart on it; another merely waved a large red heart in the air.
Amid the worship, there were outbreaks of journalism, with Putin facing tough questions on Russian troops in Ukraine, corruption in the elite and whether Katerina Tikhonova, an acrobatic rocknroll dancer who now operates a huge project linked to Moscow State University, is his daughter. He said he did not comment on his daughters, but added that both of them lives and work in Russia, and in the is a lack of a denial, basically confirmed that Tikhonova is his daughter.
The first three questions were all devoted to the difficult economic situation, with falling oil prices inspiring worries that 2016 will be a tough year. There were also tough words for Turkey, with Putin dismissing a question about Turkish students being deported and other human costs of the Russian response to Turkey downing a Russian airplane last month, and instead recurring his indignation with the Turkish president, Recep Tayyip Erdoan.
Experience presents its hard or almost impossible to come to an agreement with the current Turkish leadership. Even when we say yes we agree, they stab us in the side or the back, for absolutely incomprehensible reasons, he said.
A Ukrainian reporter sent a sarcastic hello to Putin from two Russians, apparently military intelligence officers, who were captured by Ukrainians in the east of the country and are now on trial in Kiev. The journalist asked about Putins repeated insistence that Russian troops have not been involved in the east Ukraine conflict.
Putins response was surprising: We never said there were not people there who were working on certain issues, including in the military sphere, but this does not mean there were regular Russian forces-out there, he said. Feel the difference.
This was where the event necessitated a tint of Jeremy Paxman, or at least a follow-up topic. For a start, Putin has never before said that Russia has people working on certain issues in the military sphere in Donbass. But that ran unchallenged, as did the details. Who precisely was Putin referring to? How many of these people did he indicate were there? What about the clear evidence that there have been injections of regular Russian troops at key moments?
There were some ruthlessly aggressive topics, including one reporter who grilled Putin on allegations of corruption against the sons of his billionaire friends the new upper-clas that has grown up and is mainly based around Putins old acquaintances from St Petersburg. She also asked about recent allegations published by the opposition politician Alexei Navalny on corruption and links with organised crime among top figures in the Russian attorneys office, including the sons of the prosecutor general, Yuri Chaika.
As for Chaika … As for Chaika … As for … who else? Putin said, making an uncharacteristic stumble. He proceeded to say checks would be made and intriguingly steered clear of defending his prosecutor general. But again there was no chance to follow up and find out what lay between the lines of the evasive answer.
Other questioners stimulated little great efforts to grill the president. One regional reporter who had a question about farming could not resist a fawning introduction: The thing is, as a woman I cant assist but compliment our president on the fact "youre using" such good sporty shape, she gushed. Thank you so much for this, because our young chaps take your example, its true! And so many more young people now play athletics, she said.
And without any doping, Putin purred back at her, revelling in the compliment and referring to a previous topic about doping allegations against Russian athletes.
He rarely looked uncomfortable, but overall, Putin was not quite on the sparkling form that he sometimes presents at these events. This was his 11 th giant question and answer session and there was a sense that he was just going through the motions.
There was a bit of aggressive geopolitics: he accused the Turkish leadership of trying to lick the Americans in a certain place and said the appointment of the former Georgian president Mikheil Saakashvili as governor of Odessa was spewing in the face of the Ukrainian people.
But there was nothing along the lines of last years extraordinary metaphor comparing Russia to a bear in the woodland, with the west trying to tear out its teeth and claws until it became a mere stuffed toy.
He told two gags, but both lacked his usual sharp vitriol and he seemed almost eager to finish. The allotted time for the press conference was three hours, but Putin has been known to go for almost five. This time, shortly after the three-hour mark came, the president wrap proceedings up, leaving hundreds of journalists with another year to wait to ask their questions.
Read more: www.theguardian.com