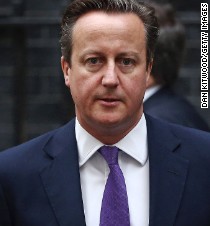 London (CNN)The presidents of Russia and France spoke Thursday about strengthening their countries' shared work against terrorism, agreeing to increase the exchange of information and intelligence.
"We are all concerned by terrorism. Terrorism can strike anywhere, so we have to act," French President Francois Hollande told reporters in Moscow.
The two discussed Syria and the fight against the Islamic State. Russian President Vladimir Putin said he believes the decision about the future of Syrian President Bashar al-Assad should be decided by the people of that country.
"I believe the decision about the President of Syria should be in the hands of the Syrian people," he said, adding that Assad's army is "an ally in the fight against terrorism."
Russia is not a member of the U.S.-led global coalition against ISIS, although, on Thbursday, Putin said that his country is ready to cooperate with the coalition. White House officials have repeatedly said that Assad must go if there's going to be a peace in the nation torn by war since 2011 — a belief France shares.
Also Thursday, British Prime Minister David Cameron became the latest world leader to call for an escalation in the fight against ISIS, as Hollande continues a whirlwind week of diplomacy to build an international coalition against the terror group.
Cameron, who met with the French leader in Paris on Monday, made the case in the British Parliament for airstrikes against ISIS in Syria, arguing that an expansion of military action is needed to counter "the very direct threat that (ISIS) poses to our country and our way of life."
It has been more than a week since an international arrest warrant was issued for key suspect Salah Abdeslam, who remains at large.
Investigators haven't detailed what they believe his role was in the coordinated series of attacks that killed 130 people, but Molins said Abdeslam may have dropped the suicide bombers off at the Stade de France, then made his way to another Paris neighborhood. His fingerprints, Molins said, were found in a car connected with the attacks.
Belgium — and specifically Molenbeek, a Brussels suburb with a history of links to terrorism — has been a focus of the investigation. On Thursday, the nation's threat level was lowered from 4 to 3, the Interior Ministry told CNN.
Read more: edition.cnn.com