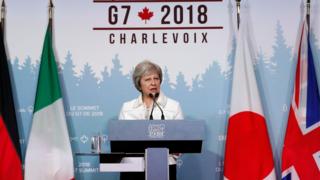 The G7 will take further action against Russia if it continues to interfere in other countries' internal affairs, Prime Minister Theresa May has said.
Leaders were sending "a clear message that such malign activity will never be tolerated" after the poisoning of the Russia ex-spy Sergei Skripal, she said.
Mrs May also said the EU would impose countermeasures after the US imposed tariffs on imported metal products.
But the prime minister warned against a "tit-for-tat" response.
Ahead of the summit in Quebec, US President Donald Trump had called for the G7 to re-admit Russia.
But Mrs May said Russia needed to "change their ways" before being invited back into the group.
Russia was expelled in 2014 in response to its annexation of Crimea.
"If there are to be any conversations about Russia's future in relation to this particular group, they have to change their styles, they have to change the road that they are taking and these kinds of activity they are involved in, " Mrs May said.
Trump calls for tariff-free G7 How allies are retaliating against US tariffs What's happening in this G7 photo ? Media captionTrump insists relationships with other G7 leaders are "outstanding"