Russia has refused to cooperate with investigation into killings of civilians in 1991, and most of the 65 accused will not attend trial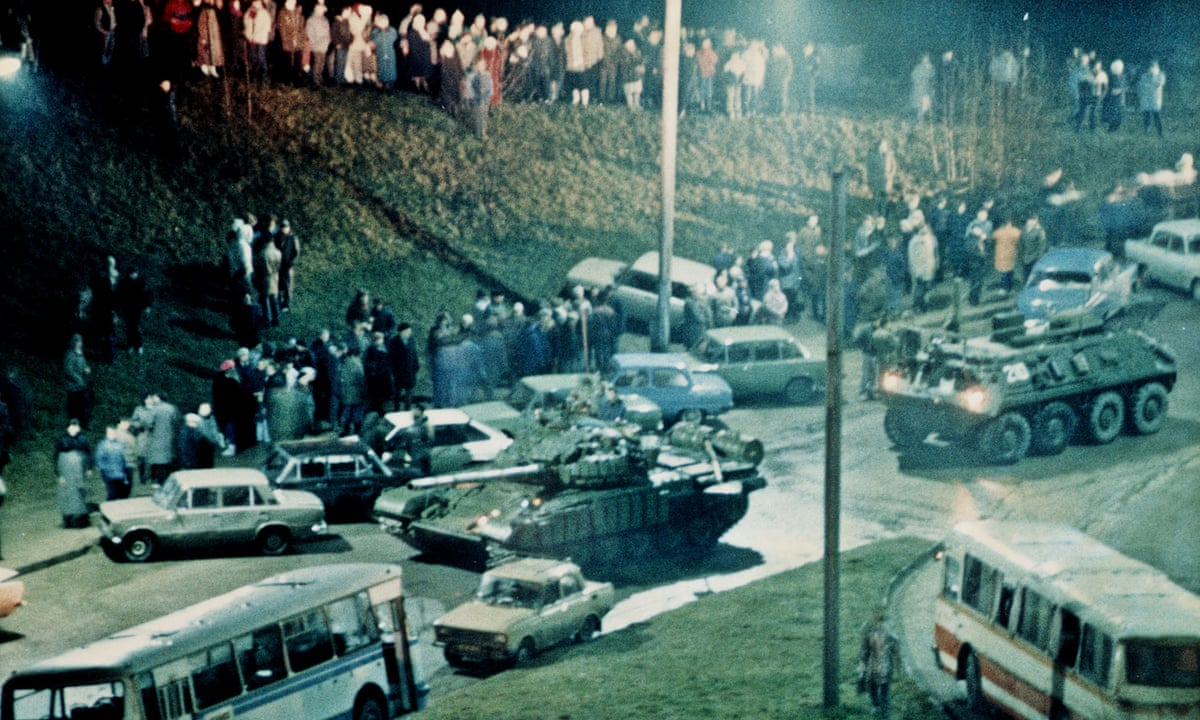 Dozens of former Soviet military officials have gone on trial in Lithuania accused of war crimes and criminal offences against humanity during a crackdown on a pro-independence motion in 1991.
Russia has refused to cooperate with the investigation and most of the accused, who live outside Lithuania, will not attend the trial, which coincides with heightened tensions between Moscow and Vilnius over the Ukraine crisis.
Prosecutors say 14 civilians were killed by the Soviet army in January 1991, all but one of them during the storming of the state television headquarters and Tv tower by Soviet paratroopers. More than 700 others were wounded.
In March 1990 Lithuania had become the first Soviet republic to declare independence from Moscow. The Soviet Union was formally dissolved in December 1991.
The former Soviet defense minister Dmitry Yazov , now 91, is the highest-ranking person in the list of 65 former military officials and army officers charged by Lithuanias chief prosecutor. They are all citizens of Russia, Belarus or Ukraine.
Two of the accused were present at Wednesdays proceedings. One of them, Yuri Mel, 47, a former tank commandant who was arrested in 2014 while on a shopping trip in Vilnius, was handcuffed and heavily guarded in the courtroom.
The second man, Gennady Ivanov, 64, a former Soviet munitions officer, lives in Vilnius and voluntarily cooperated with prosecutors. He told reporters that the Russian embassy in Vilnius had hired a lawyer for him, saying he was too poor to afford one himself. Mel and Ivanov both say they are innocent.
Most of the other accused were present as court-appointed lawyers who have had no linked with their clients.
Like Russia, Belarus has refused to cooperate with the investigation. Ukraine agreed to question five people, prosecutors said.
Lithuania , now a member of Nato and the European union, has strongly criticised Russias recent actions in Ukraine, including its annexation of Crimea in 2014.
The presiding judge Ainora Kornelija Maceviciene told the court: The attitude of both the Russian Federation and Belarus towards this criminal case is known and is obvious: these countries do not want their citizens to be put on trial.
Prosecutors are considering whether to charge the then Soviet president, Mikhail Gorbachev , now 84. A decision is likely by the summer, the investigating prosecutor Daiva Skorupskaite-Lisauskiene said.
The Russian embassy in Vilnius declined to comment on the lawsuit but said the foreign ministry in Moscow would issue a statement later. Russia protested in 2014 when Lithuania arrested and charged Mel.
Read more: www.theguardian.com