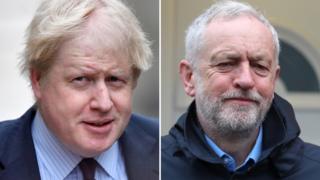 A bitter row has broken out between Labour and the Conservatives over its own language and response to the nerve agent assault in Salisbury.
Boris Johnson accused Jeremy Corbyn of refusing to "unequivocally" blame the Russian state, describing him as "the Kremlin's useful idiot".
But Labour said Mr Johnson was the "idiot" having "undermined his own government's position" on the evidence.
Moscow has denied the UK government's claim that it was behind the attack.
Russian snoop: What we know in so far Yulia Skripal 'getting stronger daily' Ex-spy 'improving rapidly' after poisoning Image caption The health of Mr Skripal and his daughter are said to be improving Image caption The UK has refused to grant Viktoria Skripal a visa to visit Britain