The long read: The inside story of how a former British spy was hired to investigate Russias influence on Trump and uncovered explosive evidence that Moscow had been cultivating Trump for years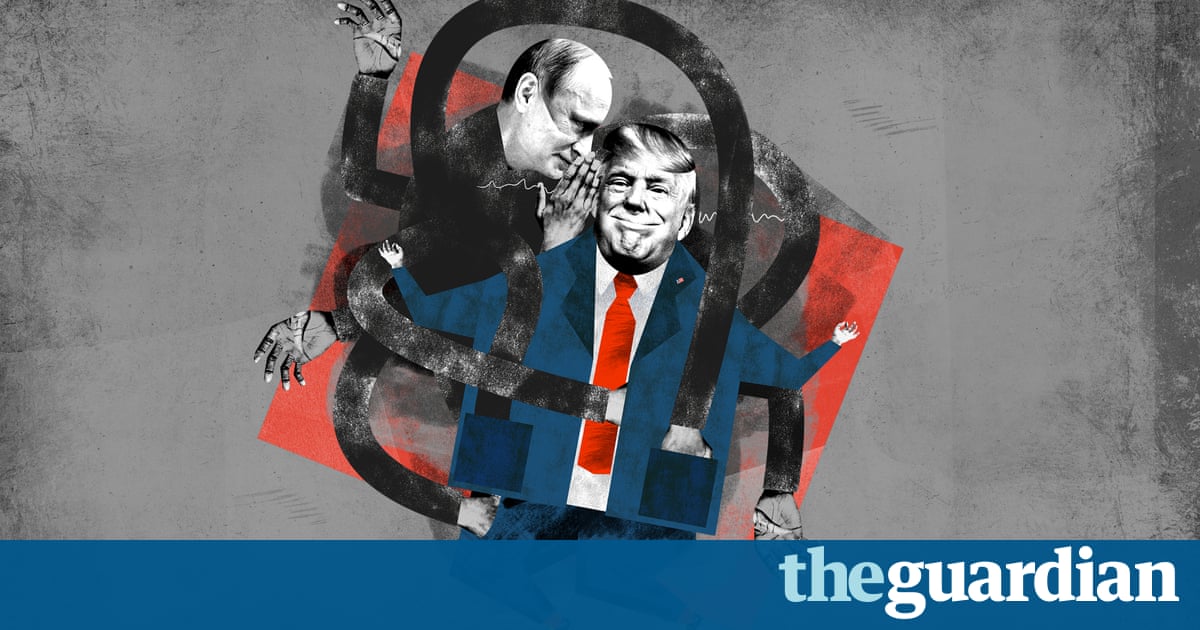 Moscow, summertime 1991. Mikhail Gorbachev is in power. Official relations with the west have softened, but the KGB still assumes all western embassy workers are spooks. The KGB agents assigned to them are easy to spot. They have a technique. Sometimes they pursue targets on foot, sometimes in vehicles. The policemen charged with keeping tabs on western diplomats are never subtle.
One of their specialities is breaking into Moscow apartments. The owners are always away, of course. The KGB leave a series of clues- steal shoes, women's tights knotted together, cigarette butt stomped out and left demonstratively on the floor. Or a astound turd in the toilet, waiting in grim ambush. The message, crudely put, is this: we are the masters here! We can do what the fuck we please!
Back then, the KGB maintained watch on all foreigners, especially American and British ones. The UK mission in Moscow was under close observation. The British embassy was a magnificent manor built in the 1890 s by a rich sugar merchant, on the south bank of the Moskva river. It appeared immediately across to the Kremlin. The position was dreamy: a grand palace, golden church domes and medieval steeples topped with revolutionary red stars.
One of those the KGB routinely surveilled was a 27 -year-old diplomat, freshly married to his wife, Laura, on his first foreign posting, and working as a second secretary in the chancery division. In this case, their distrusts were right.
The " envoy" was a British intelligence officer. His workplace was a grand affair: chandeliers, mahogany-panelled reception rooms, gilt-framed portraits of the Queen and other royals hanging from the walls. His desk was in the embassy library, surrounded by ancient books. The young officer's true employer was an invisible entity back in London- SIS, the Secret Intelligence Service, commonly known as MI6.
His name was Christopher Steele. Years afterwards, he would be commissioned to undertake an astonishing secret investigation. It was an explosive assignment: to uncover the Kremlin's innermost secrets with relation to Donald Trump. Steele's findings, and the resulting dossier, would shake the American intelligence community and cause a political earthquake not find since the dark days of Richard Nixon and Watergate.
Steele had arrived in Moscow via the usual establishment route for upwardly mobile British snoops: the University of Cambridge. Cambridge had produced some of MI6′ s most talented cold war officials. A few of them, it turned out- to great embarrassment- had secret second undertakings with the KGB. The joke inside MI6 was that only those who had never visited the Soviet Union would wish to defect.
Steele had studied social and political science at Girton College. His views were centre-left; he and his elder sister were the first members of his family to go to university.( Steele's paternal grandpa was a coal miner from Pontypridd in south Wales; his great-uncle died in a pit collision .) Steele wrote for the student newspaper, Varsity. He became president of the Cambridge Union, a debating society dominated by well-heeled and well-connected young men and women.
It's unclear who recruited Steele. Traditionally, certain Cambridge instructors were rumoured to identify promising MI6 candidates. Whatever the route, Steele's period was good. After three years at MI6, he was sent to the Soviet Union in April 1990, soon after the fall of the Berlin Wall and the collapse of the communist bloc across eastern Europe.
It was a tumultuous hour. Seventy years after the Bolshevik revolution, the red empire was disintegrating. The Baltic nations had revolted against Soviet power; their own national authorities were governing in parallel with Moscow. In June 1991, the Russian Soviet Federative Socialist Republic elected a democratic chairman, Boris Yeltsin. Food deficits were not uncommon.
There was still much to enjoy. Like other expatriates, the Steeles visited the Izmailovsky craft market, next to an imperial park where Peter the Great's father, Tsar Alexei, had established a model farm. Here you could buy lacquered boxes, patchwork quilts, furry hats and Soviet kitsch. Steele acquired samovars, carpets from central Asia, a papier-mache Stalin mask and a hand-painted Tolstoy doll set.
Much of the Soviet Union was off-limits to diplomats. Steele was the embassy's" internal traveller ". He visited freshly accessible cities. One of them was Samara, a wartime Soviet capital. There, he became the first foreigner to see Stalin's underground bunker. Instead of Lenin, he found dusty portraits of Peter the Great and the imperial commandant Mikhail Kutuzov- proof, seemingly, that Stalin was more nationalist than Marxist. Another city was Kazan, in Tatarstan. There a local correspondent, Anatoly Andronov, took a black-and-white photo of Steele chatting with newspaper editors. At weekends, Steele took part in football matches with a group of expats in a Russian league. In one game, he played against the legendary Soviet Union striker Oleh Blokhin, who scored from the halfway line.