Xi Jinping may grow tired of role as adult in the room in copes with US president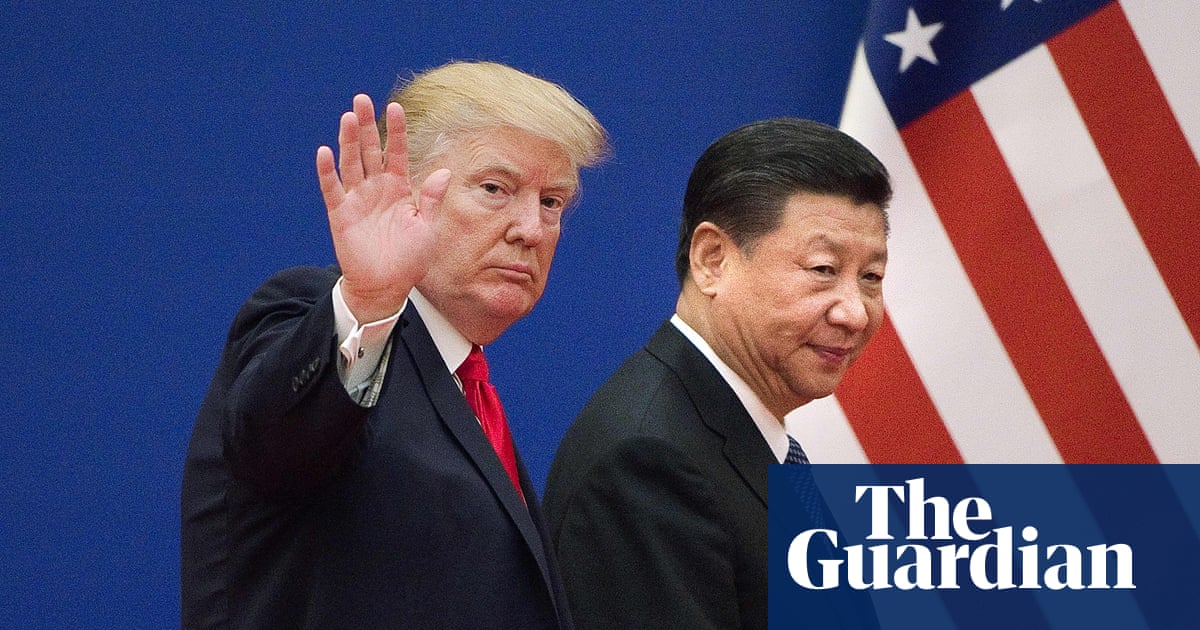 China's response to Donald Trump's escalating trade war has been relatively restraint so far. But Tuesday's latest $200 bn( PS152bn) increase in US tariffs, with the threat of more to come, may elicit tougher, asymmetrical reprisal as Xi Jinping, China's chairman, comes under pressure to stand up to perceived American bullying.
Mildly criticising Trump's actions as "incorrect", China has up to now confined itself to reciprocal tariff rises- on Tuesday hitting the US back with $60 bn of new tariffs. But indications that Beijing will boycott scheduled talks on the dispute, due in Washington next week, suggest a most robust, maybe wide-ranging response may be under consideration.
The potential for bad blood over trade to exacerbate pre-existing tensions over other issues is considerable. The two sides are already at loggerheads over China's rapid military build-up on artificial islands in disputed areas of the South China Sea. Another possible flashpoint is Taiwan, which Xi has vowed to reunite with the mainland but whose de facto independence the US effectively guarantees.
Since China importations far less from the US than it exports, it has finite scope for tit-for-tat fights exclusively over trade. If Trump ultimately creates tariffs on all Chinese importations, as he has threatened, Beijing could simply run out of American goods to sanction. That prospect increases pressure on China's leadership to find other ways to express its displeasure.
Xi may already be tacitly doing so over North Korea. Trump welcomed his help last year in stepping up sanctions on Pyongyang over its nuclear weapons and missile tests. But Washington has complained repeatedly in recent months that Chinese and Russian companies are engaged in sanctions-busting, apparently with their governments' knowledge, in particular by smuggling oil.
Trump has staked his claim to be a successful, deal-making international statesman on persuading North Korea to denuclearise. Although Beijing shares this long-term aim, Xi has the economic leveraging and the personal clout- he has met Kim Jong-un, North Korea's despot, three times this year- to frustrate Trump by complicating or delaying the process, should he made the decision to do so.
A widening rift over trade could also worsen strains over Taiwan. After his election victory, Trump upset China's leaders by talking immediately to Tsai Ing-wen, Taiwan's elected president– whom Beijing regards as a dangerous "splittist". Trump has since fostered US arms sales and official exchanges.
Taiwan is engaged in a war of words with mainland China over alleged snoop. Faced by enhanced Chinese endeavours this year to isolate the island, the Taipei government is reportedly trying to build up unofficial defence and intelligence ties with Japan, India, Australia and Singapore, as well as with the US.
Viewed from Xi's perspective, these developments alone justify the increased Chinese military members and diplomatic pressure on Taiwan seen in recent months. A farther, sharp deterioration in the overall US-China relationship would increase the already substantial risk that Taiwan will develop into a full-blown international crisis.
Stepped-up attempts by Chinese air and naval forces to intercept or prevent "freedom of navigation" patrols by American( and British) warships in the South China Sea could be another unintended outcome of Trump's trade war. Up to now, the two issues have been kept separate. But what if a frustrated Xi, who has been attacked at home for being both too hardline and too soft over tariffs, decided to conflate them?
Likewise, the Trump administration last week criticised China's repression of the Muslim Uighur minority in Xinjiang. That unexpected intervention, though backed by the UN and human rights organisations, was seen in Beijing as another gratuitously provocative( and ill-timed) assault on its sovereignty and national interests.
Growing US-China strategic rivalry is a fact of 21 st century life. Yet at present, Trump is relying on Chinese restraint in a wide range of problem areas as he focuses obsessively on his trade vendetta. It cannot be assumed Xi will be content indefinitely to play the role of" adult in the room ". His patience could snap. Few people predict a new cold war, just yet. But the warning signal are there for all to see.
Read more: www.theguardian.com