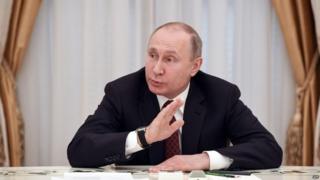 Labour leader Jeremy Corbyn has said the UK must still deal with Russia despite "all fingers" pointing to it over the Salisbury spy attack.
He said he would "do business" with Vladimir Putin but assertively and on the basis of the UK's values.
Shadow chancellor John McDonnell says he believes Mr Putin was responsible.
But Mr Corbyn said he wanted "an utterly definitive answer" about the source of the nerve agent used in the attempted assassination before blaming Moscow.
In a wide-ranging interview with Radio 4's World at One , Mr Corbyn said if he won power, he would challenge the freshly re-elected president on human rights and the whole basis of the UK's relationship with Moscow.