President Vladimir Putin assured ordinary Russians on Thursday that he was trying to relieve the adversities they face, with the economy in recession and consumer prices pushed up as a result of the Kremlin's standoff with the West.
Putin used a televised phone-in, an annual event when he fields questions from ordinary citizens around the country, to strike a conciliatory tone on foreign policy, saying Russia wanted friendly relations with the rest of the world.
Early questions to Putin focused on the economy, which shrank 3.7 percent last year, a result of falling costs for petroleum become worse by the effects of international sanctions imposed on Russia over the conflict in Ukraine.
"I understand it's difficult, " Putin said in response to a question about inflation, which was 12.9 percent in 2015. Costs were pushed up by an embargo on food imports from Europe that the Kremlin adopted in retaliation for the Ukraine sanctions.
"The rise in food prices is a temporary phenomenon. Costs will stabilize, " he said.
In response to a question from a woman called Yekaterina, from the Siberian city of Omsk, he said extra money "wouldve been" ring-fenced to pay for fixing potholes in the roads. He promised various measures to build medicine cheaper in pharmacies.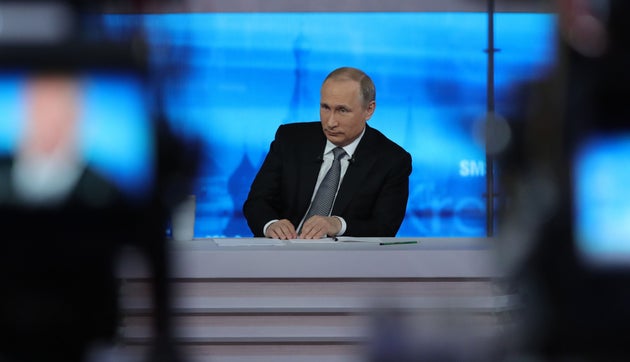 LIBERAL ECONOMIST
The Russian president offered an olive branch to investors battered by the slowdown, "says hes" supposed highly of former finance minister Alexei Kudrin and hoped Kudrin would play a role in advising on economic policy.
Markets consider Kudrin as a champ of liberal economic policy and fiscal prudence, and worry that he no longer has Putin's ear.
On foreign policy, Putin did not deploy the various kinds of bellicose rhetoric that he has in the past.
He denied that Russia was surrounded by antagonists, said he favored a peaceful, negotiated resolution of the conflict in Syria, and said Russia was a friend to Turkey, even if it had changes with Turkey's leaders.
Russian-Turkish relations have been poisoned since Turkey's air force in November last year shot down a Russian warplane near the Syrian-Turkish border.
Asked who he would save if Turkish President Tayyip Erdogan and Ukraine's pro-Western leader Petro Poroshenko were both drowning in front of him, Putin was uncharacteristically diplomatic.
"If someone has decided to drown, then it's already impossible to save then. But we are of course ready to extend a helping hand, a hand of friendship, to any partner of ours that itself wants that help, " Putin said.
Putin, who is divorced, dodged a question about whether he was going to remarry. He said he thought people were interested in his performance as chairwoman rather than his personal life.
But he told the questioner: "Maybe one day I will be able to satisfy your curiosity."
( Additional reporting by Jack Stubbs, Lidia Kelly, Dmitry Solovyov, Maria Kiselyova, Gleb Stolyarov and Anastasia Lyrchikova; Writing by Christian Lowe; Editing by Jason Bush )
Read more: www.huffingtonpost.com