The archbishop of Constantinople has awarded Ukraines wish for a church independent of Moscow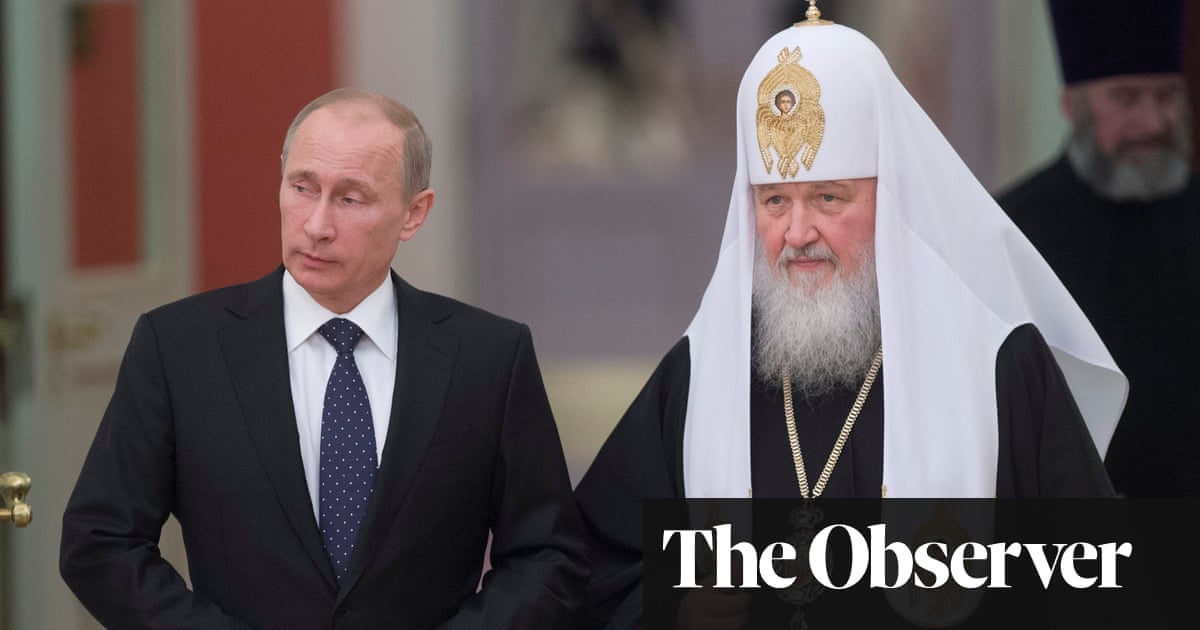 Donald Trump seems strangely in awe of Vladimir Putin. Theresa May's attempts to face down the Kremlin after Salisbury have had limited impact. But has Putin eventually fulfilled his match in Bartholomew I, the 270 th archbishop of Constantinople-New Rome, ecumenical patriarch, and" first among equals" of the Eastern Orthodox church?
In the 2,000 -year struggle between church and state, Barth-olomew chalked up a notable victory last week. Defying protests from the Kremlin and Russia's clergy, the archbishop awarded Ukraine's wish to establish an independent church that will no longer answer, as it has since 1686, to the Moscow patriarchate. The decision was taken at a synod at Orthodox " headquarters" in Istanbul, formerly Constantinople.
This was about more than ecclesiastical rivalries. Bartholomew faced intense pressure from Ukrainian believers and their secular friends to grant autocephaly( independence ). Politicians in Kiev say the Moscow patriarchate is a vehicle for advancing Russia's influence , normalising its 2014 annexation of Crimea and justifying Putin's providing assistance to separatists in eastern Ukraine.
" The decision of the ecumenical patriarch and synod ultimately dispelled the imperial illusions and chauvinistic fantasies of Moscow ," Ukraine's pro-western president, Petro Poroshenko, said." It is a question of our independence, national security, statehood, a question of world geopolitics ." He is expected to trumpet the move in his re-election campaign next year.
Bartholomew's act of defiance is a serious blow for Putin, who has employed the Moscow branch's dominance- it oversees about half of the 300 million-strong Orthodox communion- to bolster his regime's claim to be the heir to the tsarist imperium. A Kremlin spokesman said Putin was " exceedingly concerned", and warned that Russia would" defend the interests of Orthodox disciples" in Ukraine in case of " illegal actions ". Analysts were quick to point out that "defending" Russian-speakers was used to justify the intrusion of Crimea .
While religion was broadly discouraged in the Soviet era, Putin has promoted the Moscow patriarchate as the global capital of Orthodox Christians and the religious show of Russia's return to global greatness. This idea of a" Russian world" with one church and culture, endorsed by Patriarch Kirill, is chairman of the Russian Orthodox church, is now in jeopardy. Kirill has threatened to break off relations with Bartholomew if the separation goes ahead. This is the rough equivalent, in Anglican words, of a rupture between the archbishoprics of York and Canterbury. In recent months Russia's church has likened Ukraine's move to the " Great Schism" of 1054, when Christianity split into rival camps in Rome and Constantinople. It said Bartholomew had surpassed his powers and his decision could encourage Orthodox branches in other countries to follow suit.
Bishop Hilarion Alfeyev of Moscow's Holy Synod said on nation television:" We the Russian church will not recognise this autocephaly, and we will have no choice but to sever ties with Constantinople. The patriarch of Constantinople will no longer have any right to be styled as he is now, the leader of the 300 million Orthodox population of the planet. At least half the population will not recognise him at all ." Time will tell whether Putin and his clerics make good on this public threat. It also remains to be seen whether rival Ukrainian churches will unite now that all are free of Moscow's embrace.
Hilarion claimed the whole affair was the outcome of an American plot- an interpretation many in Russia may share. Sporadic battle in east Ukraine between Russia-backed separatists and government forces is continuing, with lethal clashes reported in August. More than 10,300 people have died since 2014.
The potential for further violence is real. The latest ceasefire, adopted in december, has been repeatedly contravened. An August meeting between Putin and German chancellor Angela Merkel failed to produce progress and, last week , days before the Istanbul synod, huge explosions tore through an ammunition depot east of Kiev, forcing the evacuation of 12, 000 people.
Blaming saboteurs for the incident, Ukraine's deputy premier connected the explosions to Russian anger over the church schism. God be praised, there were no casualties- this time.
Read more: www.theguardian.com