[ youtube https :// www.youtube.com/ watch? v= yL6r2qW_jPQ& w= 100& h= 500]
Actor Alec Baldwin called into a radio station Friday pretending to be President Donald Trump scarfing down a "gigantic piece of chocolate cake."
It was the latest blast in a bitter feud between Trump and Baldwin. On Friday, Trump blasted Baldwin's career as "mediocre" and his impersonation of the president as "terrible." Baldwin shot back, saying he planned to "hang in there for the impeachment hearings … You know. The good stuff."
Baldwin also spoke as himself when he called the Syracuse radio program on TK9 9 hosted by his brother Daniel.
Baldwin conceded that the "Saturday Night Live" crew may be creating its weekly sketches, including Trump impersonations, "by the seat of our pants."
"We're doing our civic obligation, " he added. "We're doing the best we can with what we have. Here we have this guy who is probably the greatest presidential impersonator we've ever seen in history."
He said he hoped Trump would have a sense of humor about the program, then quipped that he wants the president to "tell his wife to stop calling me for tickets to the show."
When Baldwin, impersonating Trump, was asked if the president should be blasting the actor instead of running the country, he said: "I get this. I'm the president. I won. I'm a multi-tasker. I've always done lots of things. I've always had five or six girlfriends at a time."
Trump was harshly blamed Friday on MSNBC by former CIA director John Brennan , who expressed concerns about the president taking time to attack Baldwin while ignoring national security concerns, such as Russia's announcement of new nuclear weapons.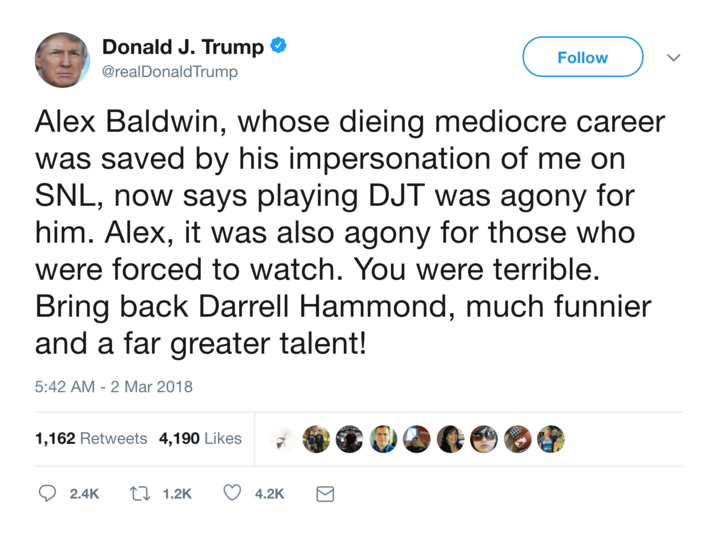 Check out the rest of the Baldwin interview above.
Read more: www.huffingtonpost.com