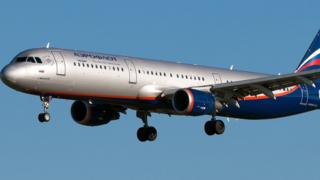 The UK has refuted a complaint from Russia over a search of one of its aircraft at London's Heathrow Airport, as a row over the poisoning of a former Russian spy deepens.
The British government described the search of the Aeroflot plane on Friday as "routine" after Russia indicated it was "illegal".
Dozens of diplomats have been expelled on both sides in the poisoning disagreement.
Moscow wants UK representation in Russia cut by a further 27 envoys.
Twenty-three had already been expelled by Russia in response to the UK's announcement of 23 Russian expulsions on 14 March.
Ex-spy Sergei Skripal, 66, and daughter Yulia, 33, were poisoned on 4 March in Salisbury with what UK investigators have concluded was a Russian nerve agent called Novichok. Russian denies participation.
He is critically ill, but stable, while she is now said to be conscious and talking.
The Foreign and Commonwealth Office has meanwhile said it will consider a request for Russian consular access to Yulia, a Russian citizen.
Russia asks to visit Yulia Skripal in UK What the diplomat expulsions tell us What next for Russia's spy networks ? Full coverage of the Russia spy poisoning Image caption Sergei Skripal and his daughter Yulia have been in hospital since the two attacks Image caption Russia is closing the US consulate in St Petersburg as part of its retaliatory measures