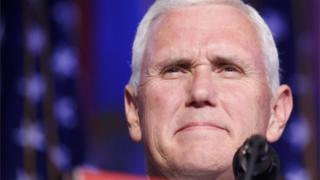 Boris Johnson and US Vice President-elect Mike Pence have spoken by phone about the U'Ss "close relationship" with the UK.
The UK foreign secretary said on Twitter they had agreed on the "importance of the special relationship and need to tackle global challenges".
Sources close to Mr Johnson said the two men spoke for 10 minutes on Thursday.
The BBC understands it was Mr Pence's first call to an overseas politician.
On Thursday, Mr Johnson said critics of Donald Trump's victory should aim the "collective whinge-o-rama" and be positive about the possibilities.