Erdoan pledges to fight terrorism till the end as world leaders denounce New Years Eve killing of 39 people at Reina nightclub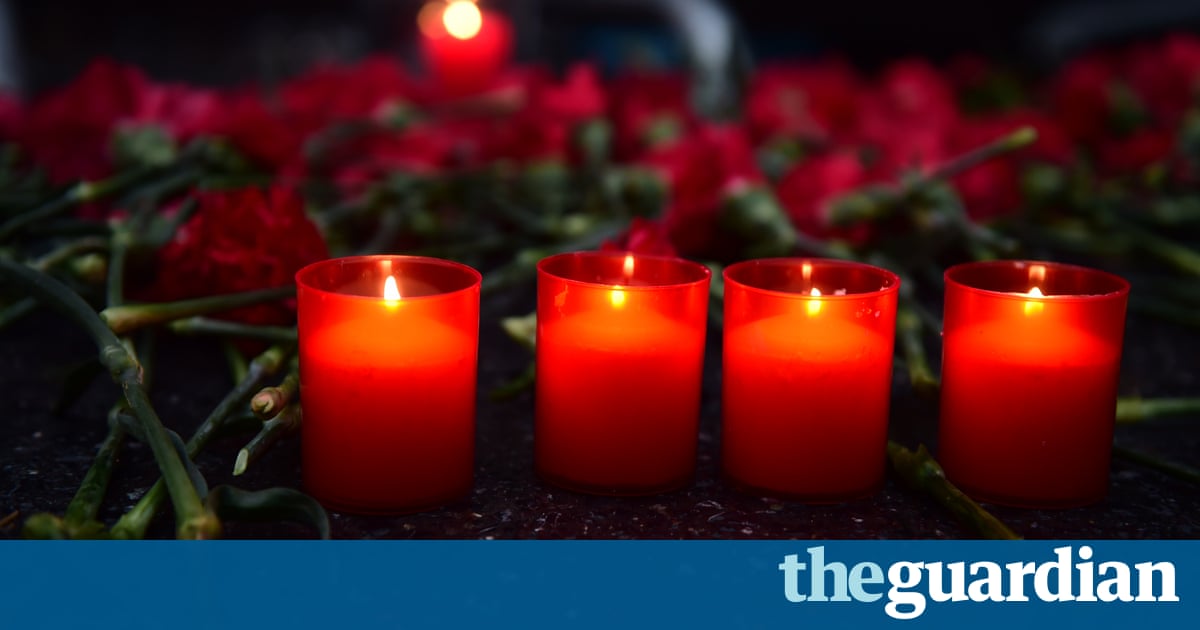 Istanbul is on high alert as the hunt for a gunman, who fled after killing 39 people at a nightclub on New Years Eve, continues.
President Recep Tayyip Erdoan vowed in a statement that Turkey would fight terrorism till the end following the attack at Reina in Istanbuls upmarket Ortaky neighborhood.
Turkey will stand together and not devote passageway to dirty games of terrorists, he said.
Mehmet Grmez, Turkeys most senior Muslim cleric, condemned the attack as savagery and a massacre that no Muslim conscience can accept.
There was disapproval from around the world as well as inside Turkey. The US State Department described the two attacks as heinous and the Russian president, Vladimir Putin, said it was hard to imagine a more cynical crime.
The attack arrived at the end of a year of terrorist incidents across Europe, including the driving of a truck into a Christmas market in Berlin earlier in December. The German chancellor, Angela Merkel , sent her condolences to the victims of the Istanbul attack, telling terrorists … have carried out an inhumane and devious attack on people who wanted to celebrate the new year together.
A Downing Street spokesman said Theresa May had written to Erdoan after the two attacks to offer her condolences. She said her guess were with the Turkish people after this further devastate terrorist attack, and confirms the UK stands ready to help, No 10 said.
In his new years address, Pope Francis said: Unfortunately, violence has stricken even in this night of good wishes and hope. Pained, I carry my closeness to the Turkish people. I pray for the many victims and for the wounded and for the entire nation in mourning.
I ask the Lord to sustain all men of good will to courageously roll up their sleeves to confront the plague of terrorism and this stain of blood that is covering the world with a shadow of dread and a sense of loss.
The gunman entered Reina, a club on the Bosphorus that has long been a favourite of tourists, a little after 1am, shot a police officer and then opened fire inside the club with a Kalashnikov rifle, before fleeing the scene.
Istanbuls governor, Vasip ahin, told reporters: At 1.15 am, a terrorist convey a long-barrelled weapon martyred the police officer waiting outside, and then martyred another citizen to enter. He then carried out this violent and cruel act by spraying bullets on innocent people who were celebrating the new year.
The interior minister, Sleyman Soylu, said the gunman was still at large, after reports initially said the attacker was killed. Police were deployed around key areas of the city and several roads near the scene of the attack were closed off.
Witnesses described scenes of chaos as revellers attempted to flee, some even throwing themselves into the Bosphorus to escape the gunfire.
Outside ili Etfal hospital, Sinem Uyank said she had been at the club with her husband, who was wounded in the two attacks. Before I could understand what was happening, my husband fell on top me, she told Associated Press. I had to lift several bodies from on top of me before I could get out. It was frightening. She said her husbands condition was not serious.
Read more: www.theguardian.com