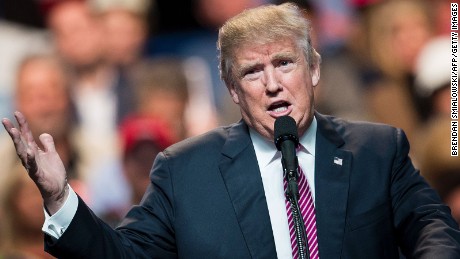 Washington (CNN)Donald Trump on Wednesday gave a major speech attacking presumptive Democratic nominee Hillary Clinton, and CNN's Reality Check Team put the billionaire's statements and assertions to the test.
The team of reporters, researchers and editors across CNN listened throughout the speech and selected key statements, rating them true; mostly true; true, but misleading; false; or it's complicated.
Reality Check: Trump criticizes leaders for offshoring, but Trump brands also did it
By John Newsome, CNN
Trump criticized politicians and business leaders, arguing that they created policies that allowed and encouraged the offshoring of American jobs to America's competitors.
"We got here because we switched from a policy of Americanism — focusing on what's good for America's middle class — to a policy of globalism, focusing on how to make money for large corporations who can move wealth and workers to foreign countries, all to the detriment of the American worker and the American economy itself," Trump said.
A CNN investigation shows that Trump and his businesses offshored jobs to a number of countries, including Bangladesh, Indonesia, and even China.
CNN purchased several of Trump's clothing items in 2016, whose tags indicated they were manufactured throughout Asia.
By Jeremy Diamond and Sonam Vashi, CNN
"I started off in Brooklyn, New York, not so long ago, with a small loan and built a business that today is worth well over $10 billion," Trump said.
That small loan from Trump's father was worth $1 million, probably given before Trump entered the Manhattan real estate market in the early 1970s.
Trump has built up a multi-billion-dollar net worth, expanding his father's lucrative real estate business to new heights. But while much of Trump's success is a credit to his work, he was born into a successful, wealthy family, inheriting part of his father's more than $200 million net worth.
By Laura Koran, CNN National Security Producer
However, if you cherry-pick the data from 2009 to 2012, the deficit jumped 34%. But that's because the trade gap narrowed during the depths of the recession in 2009.
By Tami Luhby, CNNMoney
Trump lashed out at Clinton's support of trade agreements that he said were "among the most destructive ever signed."
Specifically, Trump cited the North American Free Trade Agreement, which then-President Bill Clinton signed in 1994, and China's entrance into the World Trade Organization in late 2001, for which the former president smoothed the way.
"We've lost nearly one-third of our manufacturing jobs since these two Hillary-backed agreements were signed," Trump said.
The presumptive Republican candidate is exaggerating the figures a bit. The nation has lost 27% of its manufacturing jobs since NAFTA was signed in 1994. The sector, which employed 16.9 million people back then, now has 12.3 million workers.
But that masks the fact that the industry actually expanded it payrolls slightly under the remainder of Bill Clinton's term.
Manufacturers, however, have been adding jobs since early 2010. Employment is up 7.3% since then.
Yet it's not clear how much free trade deals drove the decline in manufacturing employment. Corporate America was already shifting jobs to lower-wage countries, and technology already made it more costly for U.S. companies to produce goods here. Also, today's factory jobs require more education and skills, leaving many less-educated Americans on the sidelines.
Trump also said that the nation will lose millions more jobs if Hillary Clinton is elected because she will adopt the Trans-Pacific Partnership agreement, which the former secretary of state had supported but now opposes. His comments here are misleading, too, because only Congress has the power to ratify trade agreements.
By Cristina Alesci and Laurie Frankel, CNNMoney
Trump said Clinton made $21.6 million giving speeches to Wall Street banks and other special interests in less than two years after she left her job as secretary of state in early 2013.
"When she left, she made $21.6 million giving speeches to Wall Street banks and other special interests, and, in less than two years, secret speeches that she does not want to reveal, under any circumstances, to the public," he said.
By Cristina Alesci and Laurie Frankel, CNNMoney
Trump said, "Hillary Clinton accepted $58,000 in jewelry from the government of Brunei when she was secretary of state — plus millions more for her foundation."
As for donations from Brunei to the Clinton Foundation, that is true.
Trump also said the "Sultan of Brunei has pushed oppressive Sharia law, including the punishment of death by stoning for being gay.
By Eve Bower, CNN
Trump fiercely criticized Clinton's Middle East policy during her tenure as secretary of state, claiming her "support for violent regime change in Syria has thrown the country into one of the bloodiest civil wars anyone has ever seen."
It is true that the civil war in Syria has been one of the deadliest in modern history: according to a recent U.N. estimate, since the start of hostilities in early 2011, more than 400,000 Syrians have been killed.
But it is difficult to determine how much of Syria's fate can be attributed to a Clinton proposal that was never adopted.
In the leaked message, Clinton pressed for a multilateral intervention in Syria, writing, "Only the threat or use of force will change the Syrian dictator Bashar Assad's mind." Specifically, she advised, "Washington should start by expressing its willingness to work with regional allies like Turkey, Saudi Arabia and Qatar to organize, train and arm Syrian rebel forces."
Because it is impossible to attribute the ongoing bloodshed of the Syrian civil war to the rejected policies of a secretary of state now out of office for more than three years, we rate Trump's claim FALSE.
By Kate Grise and Laura Koran, CNN
Trump also took shots at Clinton's record on the war in Iraq. "It all started with her bad judgment in supporting the war in Iraq in the first place," he said.
He added, "Though I was not in government service, I was among the earliest to criticize the rush to war, and yes, even before the war ever started."
However, Trump's claim that he was one of the first to criticize the Iraq War is less clear.
"Yeah, I guess so," Trump responded. "I wish the first time it was done correctly."
But these statements were made after the war began, mostly in 2004. There's no indication he said anything along the lines of "Do not attack Iraq" before the invasion began, as he has previously claimed.
By Kate Grise and Tami Luhby, CNN
"We are, by the way, the highest taxed nation in the world. Please remember that," Trump said.
As CNN's Reality Check team did when Trump made this claim in the past, we'll look at each part of his claim that American individuals and businesses pay more taxes than any other country.
Do Americans really pay more individual taxes than citizens of any other country in the world?
Hardly.
OECD's 34 member countries are advanced, industrialized nations, which makes their data valuable in comparing the United States to similar countries. China, Russia and India are not included in the OECD's list because they are not member countries.
We can also look at total tax revenue as a percentage of the country's gross domestic product. This time, America ranks even lower: 27th out of 34 OECD member countries in 2014. America's tax revenue is 26% of the country's GDP. Denmark tops the list with its tax revenue being equal to 50% of the country's GDP.
Turning to companies, it's true that American businesses face the highest official corporate tax rate. The federal rate stands at 35%.
But that's not what many companies actually pay. The Government Accountability Office found that large, profitable U.S. corporations paid an average effective federal tax rate of 12.6% in 2010 thanks to things such as tax credits, exemptions and offshore tax havens. In each year from 2006 to 2012, at least two-thirds of all active corporations had no federal income liability, according to the GAO.
U.S. corporate tax collection totaled 2.6% of GDP in 2014, according to the OECD. That was the 16th highest rate among the 34 nations.
By Ryan Browne and Laura Koran, CNN
Trump slammed Clinton's response to the September 11, 2012, attacks on the U.S. consulate in Benghazi, Libya, that resulted in the death of four Americans, including the ambassador to Libya, Christopher Stevens.
Here is what Trump said: "Ambassador Stevens and his staff in Libya made hundreds and hundreds of requests for security. They were desperate. They needed help. Hillary Clinton's State Department refused them all. She started the war that put them in Libya, denied him the security he asked for, then left him there to die."
During her testimony on Capitol Hill before the House Select Committee hearing on Benghazi last year, Clinton acknowledged that "a number of" requests were made but added, "I did not see them. I did not approve them. I did not deny them."
During the same hearing, Rep. Mike Pompeo, R-Kansas, estimated that about 600 requests or concerns were raised with regard to Benghazi and Libya.
A State Department independent investigation into the attack chaired by former Amb. Thomas Pickering and former Chairman of the Joint Chiefs Adm. Michael Mullen found that senior officials in the State Department had "demonstrated a lack of proactive leadership and management ability … in their responses to security concerns posed by the Special Mission Benghazi."
However, the report also notes that while most of the requests were not fully fulfilled, some measures and concerns were addressed, at least in part.
Trump also made the assertion that Clinton attributed the attack to an online video that was critical of Islam: "To cover her tracks, Hillary lied about a video being the cause of his death," Trump said.
Trump cites a family member of one of the victims as evidence that Clinton attributing the video as the cause of the incident.
That person was the mother of Sean Smith, who told Fox News, "She lied to my face."
Some of the family members of the victims have indeed said that Clinton misled them on the cause of the attack, but did not mention the video.
Kate Quigley, sister of CIA operative Glen Doherty, told CNN's Anderson Cooper that in the wake of the attack Clinton had mentioned protests but not a video.
"She spoke to my family about how sad we should feel for the Libyan people because they are uneducated and that breeds fear, which breeds violence, and leads to a protest," Quigley said, adding that Clinton chose to "perpetuate what she knew was untrue."
While some administration officials, including then-ambassador to the U.N., Susan Rice, did not immediately call the attack a pre-planned terror operation, emphasizing the video and protests, it is less apparent that Clinton attributed the attack directly to the online video.
But in an email exchange from the night of the attack, Clinton told her daughter Chelsea — who was using the pseudonym "Diane Reynolds" — that the attack was launched by "an al Queda-like group."
A few days later, on September 21, Clinton publicly labeled the attack an act of terrorism, saying, "What happened in Benghazi was a terrorist attack, and we will not rest until we have tracked down and brought to justice the terrorists who murdered four Americans."
By Cristina Alesci and Laurie Frankel, CNNMoney
According to Trump, Clinton ran the State Department like her own personal hedge fund, doing favors for oppressive regimes and many others in exchange for cash.
To make this claim, Trump cited several examples from the book "Clinton Cash" by Peter Schweizer. Among the accusations: Clinton's State Department approved the transfer of 20% of America's uranium holdings to Russia while nine investors in the deal funneled $145 million to the Clinton Foundation.
While the deal to sell Uranium One to a Russian company was completed in 2010, there's no hard evidence of a quid pro quo.
Even Schweizer admits there's no smoking gun. According to The New York Times, although significant donors to the foundation stood to benefit from the transaction, which allowed a Russian company to buy the rights to one-fifth of U.S. uranium deposits, "Whether the donations played any role in the approval of the uranium deal is unknown." CNN several times has asked the Clinton Foundation to confirm whether the nine investors who benefited from the deal also contributed to the foundation, but the foundation has yet to respond.
But even if foundation donors profited from the sale of Uranium One, the State Department was one of several agencies that needed to sign off on the transaction.
By Kate Grise, CNN
"In fact, Hillary Clinton supports a radical 550% increase in Syrian refugees coming into the United States, and that's an increase over President Obama's already very high number," Trump said.
"Under her plan, we would admit hundreds of thousands of refugees from the most dangerous countries on Earth — with no way to screen who they are or what they believe," he continued.
Clinton said on CBS's "Face the Nation" on September 20 that she would like to see the United States accept more refugees than Obama's plan to increase to 10,000 per fiscal year 2016.
"Look, we're facing the worst refugee crisis since the end of World War II and I think the United States has to do more, and I would like to see us move from what is a good start with 10,000 to 65,000 and begin immediately to put into place the mechanisms for vetting the people that we would take in," Clinton said, implying that her figure, like Obama's, was per fiscal year.
However, Trump continued saying that there is no way to screen those immigrants.
The Resettlement Support Center compiles a file on each refugee and then the security checks begin. The National Counterterrorism Center, FBI, Department of Homeland Security and the State Department are all involved in these security checks. Before arrival in the United States, refugees are interviewed, fingerprinted and given medical screenings, among other security checks. Finally, they arrive in the United States, go through U.S. Customs and Border Protection's National Targeting Center and then must apply for a green card within a year of arrival, which triggers another set of security procedures.
By Tal Kopan, CNN
Trump asserted that Clinton's private email server was hacked when she was secretary of state.
"Her server was easily hacked by foreign governments, perhaps even by her financial backers in communist China," he said. "I'm sure they have it, putting all of America and our citizens in danger."
While it is true that Clinton used a privately-run server for email during her time as secretary of state, there has been no conclusive evidence that the server was compromised, nor any indication that foreign governments were involved in any attempts to do so.
In May 2011, Clinton's staff discussed via email her receiving a suspicious link to her email, and she later that day replied to a message from the account of the undersecretary for political affairs with a suspicious website link in it, "Is this really from you?" The IG dinged Clinton and her staff for not reporting the incidents.
In none of the accounts, though, was there a record of the attempts being successful, nor indication of who was behind it.
There have also been boastful claims by a hacker that he broke into Clinton's server — with no evidence to back it up. Recently convicted Romanian hacker Marcel Lehel Lazar, who pleaded guilty to hacking email accounts belonging to figures including former Presidents George W. Bush and George H.W. Bush and Clinton adviser Sidney Blumenthal, made such a claim from prison in an interview with NBC News.
By Sonam Vashi and John Newsome, CNN
Trump said, "Hillary also wants to spend hundreds of billions to resettle Middle Eastern refugees in the United States, on top of the current record level of immigration. For the amount of money Hillary Clinton would like to spend on refugees, we could rebuild every inner city in America."
First: how much do we spend on refugees, and how much more does Clinton want to spend?
There's no clean or accurate way to estimate how much each refugee costs the U.S. For an overly simplistic estimate: if we look at the part of ORR's budget that is not dedicated to the custody of Central American children (about $611 million in FY2015), the total number of refugees admitted (about 70,000), and then add in the 55,000 more Syrian refugees Clinton is proposing, the cost to the U.S. government might look something closer to $1.1 billion per year (about $500 million more than what ORR spends now), plus the $3 billion per year from the State Department.
Meanwhile, the amount of money required, both from public and private sources, to revitalize all of America's inner-cities is so massive it is hard to quantify.
The Initiative for a Competitive Inner City organization, a Boston-based incubator and accelerator for inner-city growth, calls such an undertaking enormous.
"We cannot put a price tag on the vast long-term public and private investment required to revitalize America's inner cities. We know that there are at least 328 inner cities in the United States with high levels of poverty and unemployment. They demand enormous public and private resources to deal with the profound challenge of economic inequality that plagues our cities," the group's CEO, Steve Grossman, tells CNN.
Given how massive the price tag would be to revitalize all of America's inner cities, it's clear that it would be much larger than the approximate $4.1 billion per year that the U.S. spends on refugees.
By Amy Gallagher, CNN
In particular, southern states objected to the tariffs that benefited northern manufacturers at the expense of southern agricultural interests. For example, a later tariff on British-manufactured cloth both reduced the demand for American cotton as a raw material and increased the cost of imported cloth, hitting southern cotton farmers twice. It was this tension between agriculture and manufacturing that kept tariffs low for many years.
Read more: www.cnn.com