Refuelling plan has described criticism from Nato secretary general and senior European parliamentarians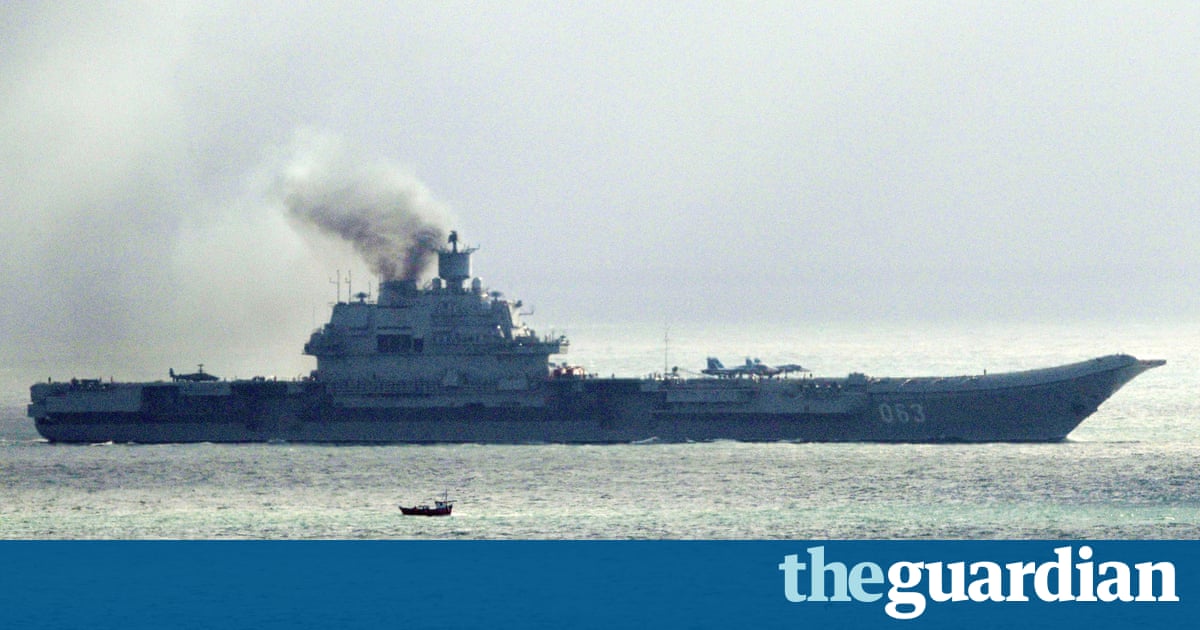 The Spanish foreign ministry has said it is reviewing plans to allow Russian warships to refuel in Spanish ports on the way to the eastern Mediterranean, from where they are supposed to escalate assaults against rebel fighters in Syria.
The refuelling plan has described criticism from the Nato secretary general, Jens Stoltenberg, and from senior European parliamentarians and the former UK navy chief Admiral West.
The Spanish were accused of hypocrisy for potentially letting the warships refuel, after signing statements last week accusing the Russians of war crimes in Syria, and tweeting support for the freeing of Syria during a conference in Paris on Tuesday.
The Russian flotilla led by the aircraft carrier Admiral Kuznetsov is due to dock at the enclave of Ceuta, on the tip-off of Africas north coast, across the Straits of Gibraltar from mainland Spain and bordering Morocco, which also lays claim to the territory. Although Ceuta is part of the EU, its Nato status is unclear, and since 2011 at least 60 Russian warships have docked there.
The Spanish insist assistance given to the Russians at Cueta has always been commercial and transparent.
The Spanish foreign ministry said it was reviewing the permit issued to the Russian flotilla. A spokesman said: The last stops requested are being reviewed at this time based on the information we are receiving from our allies and Russian authorities.
On Tuesday, Stoltenberg said: We are concerned and have conveyed very clearly by the potential use of that combat group to increase airstrikes on civilians in Aleppo. He said it was up to each nation to decide whether these ships may obtain renders and refuel at different ports along the road to the eastern Mediterranean.
The Russian fleet has frequently used the port of Ceuta, contributing to the local economy. The Spanish foreign ministry spokesman emphasized permits were authorised on a suit by-case basis taking into account the characteristics of the vessel and the safety of the environment, the local population and the port itself.
The leader of the liberal confederation in the European parliament, Guy Verhofstadt, tweeted: Spain signed the EU statement on war crimes Russia in Aleppo last week, today helps refuel the fleet en route to perpetrate more. Actually?
Luke Coffey, a former special adviser to the UK cabinet minister Liam Fox, pointed out that Spain had refuelled 25 Russia ships since it invaded Crimea. He said the most recent visit passed on 16 October, when two Russian corvettes, Zeleny Dol and Serpukhov, and one tug, SB-3 6, resupplied in Ceuta.
Writing for the Huffington Post, he said: It is extraordinary that every country in Europe, much less one that is an EU and Nato member, would think its acceptable to provide logistical support to military forces involved in an illegal occupation or questionable support to Assad.
He said Russian warships had also visited ports in Malta.
Read more: www.theguardian.com