Isis asserts it carried out suicide and car bomb attacks in Jableh and Tartous, which until now had escaped worst of conflict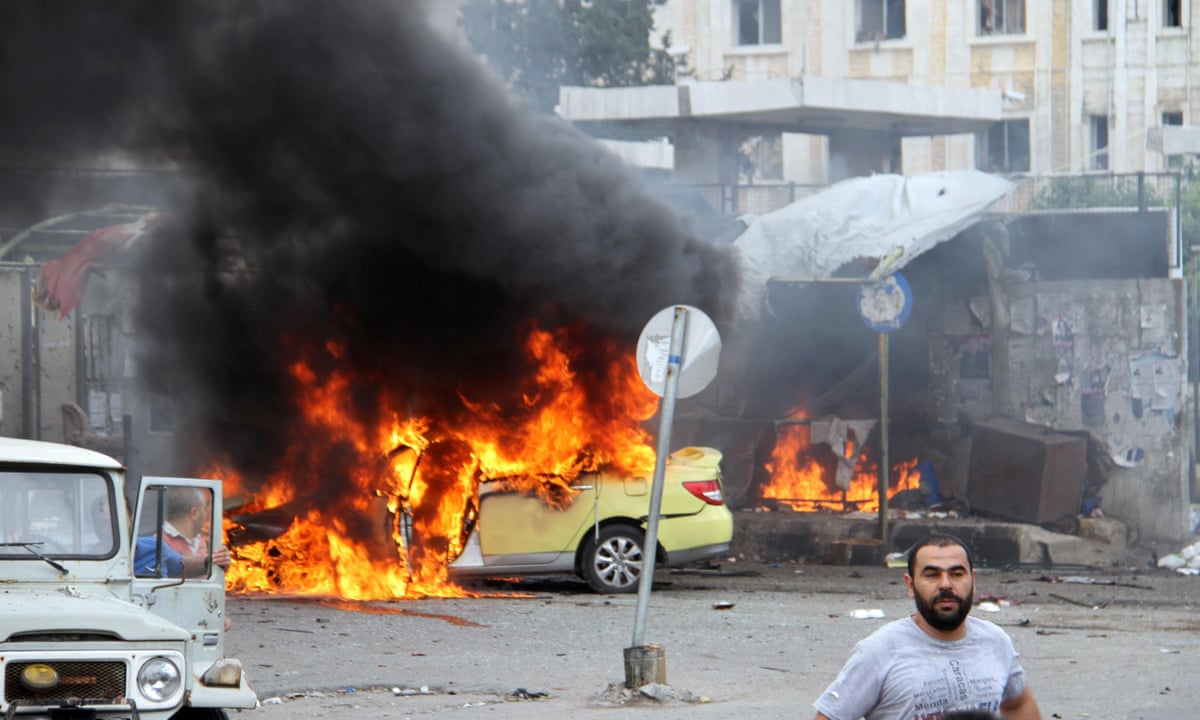 Islamic State has claimed responsibility for a series of explosions that killed more than 120 people in a loyalist coastal enclavethat has remained the most tightly controlled part of Syria throughout the civil war.
The assaults targeted Tartous, which hosts a Russian naval base, and Jableh, 50 miles to the north. Both cities had been spared the destruction that has laid garbage to other parts of the country over more than five years.
Isis announced that the explosions were its work within hours of sending suicide bombers and car bombs into the area.
Four explosions, several carried out by suicide bombers, caused chaos in Jableh, killing more than 70 people, while three more detonated near a petrol station in Tartous, killing about 50 people and maiming scores more.
The terror group said it was targeting supporters of the Syrian president, Bashar al-Assad, and collects of the Alawite sect, to which Assad and many of Syrias ruling class belong.
Assad has been heavily backed by Russia since the war began. Moscows backing had become more resolute over the past seven months, after Vladimir Putin launched a large-scale intervention last October against rebel groups and jihadis, which has since laid garbage to many opposition-held areas in northern Syria.
The Russian naval base in Tartous has been Moscows largest naval fixture outside the former Soviet Union for more than 40 years. Moscow also maintains a large listening post in the area and has built an airbase near Latakia.
While Tartous and Jableh had previously been hit by rocket fire, neither Isis nor other jihadi groups , nor the mainstream Syrian opponent, had managed to launch a large-scale assault in the area. Isis has a small presence in the countryside near Hama to the immediate east of Tartous; however, it operates mainly to the east of Aleppo, several hundred miles away.
Much of Syrias north-west coast, including Latakia, has remained loyal to Assad and he retains considerable influence there and in the adjoining Alawite heartland, from where many senior military officers and establishment figures have been drawn over the 45 years that the Assad family has ruled Syria.
The assaults are highly symbolic for Isis, which has been battered on the battlefields of Iraq and Syria over recent months, losing up to 30% of the territory it held in late 2014, after the groups leader, Abu Bakr al-Baghdadi, anointed himself as the leader of a new Islamic Caliphate that straddled the borders of both countries.
A US-led air campaign has pushed the group out of much of northern Iraq, and a Russian-backed land offensive in March deposed it from the ancient city of Palmyra , north-east of Damascus. Despite the losses, Isis retains pockets of influence across the country, which it uses to spark conflicts along the Lebanese perimeter, in the southern suburbiums of Damascus, near Hama to the west and close to Deraa near the Jordanian border.
As it has lost control of geographical areas, the terror group has increasingly tried to assert itself by launching co-ordinated bombings, which have been signature ploys throughout all the groups incarnations. Attacks similar to the Tartous strikes have been launched in Shia neighbourhoods of Baghdad in recent weeks, where more than 200 people have been killed. Scores died in similar bombings in Damascus and near Homs earlier this year.
Talks aimed at ending the fighting in Syria stagnated in Vienna last week. Earlier talks in Geneva satisfied the same fate. A joint US and Russian effort to bring together warring parties, omitting Isis and a separate jihadi group, Jabhat al-Nusra, has failed to generate momentum.
Opposition groups, which are nominally led by an exiled political administration, accuse the Assad regime and Russia of bombing communities controlled by opponent fighters with impunity, and paying scant attention to Isis.
Russia has claimed there is little distinction between jihadi fighters and opposition groups who are fighting to oust Assad.
Read more: www.theguardian.com