President, an ex-KGB agent, observes security agency employees day each year, marking the date dreaded Cheka secret police was formed by Bolsheviks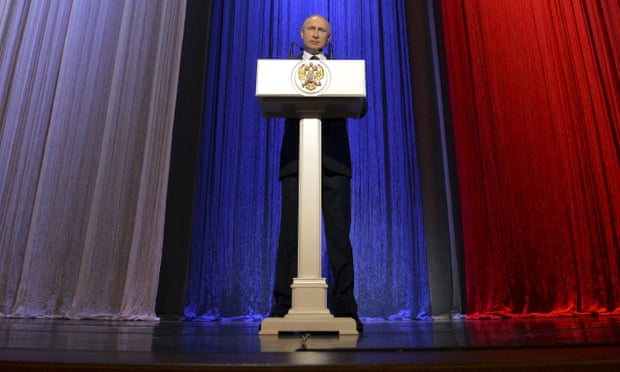 Vladimir Putin, himself a former KGB agent, has honoured members and veterans of the Russian security services on their annual professional holiday which marks the day that the dreaded Cheka secret police was formed in 1917.
Were honouring courageous people of strong spirit, true professionals, Putin said in a statement posted to the Kremlin website. His congratulations followed a jamboree in the Kremlin on Saturday for snoops, during which Putin praised the efficient work of intelligence officers in Syria, where Russian forces-out have been backing president Bashar al-Assad. He also said Russian security agencies had exposed 320 foreign snoops in 2015 and avoided more than 30 crimes of a terrorist nature.
Putin, who served as a snoop in Eastern germany in the 1980 s and whose inner circle still includes many former intelligence agents, makes a point to congratulate his former comrades on their holiday each year. Unlike many former Eastern Bloc states that condemned atrocities by the Soviet security agencies after the dissolution of the USSR, Russia had no clean break with this part of its past.
Security agency employees day was instituted by Boris Yeltsin in 1995, when he was leader, but was unofficially celebrated before that as Cheka day. Founded by Vladimir Lenin on 20 December 1917 and led by Iron Felix Dzerzhinsky, the Cheka apprehended, tortured and killed thousands of people as part of the Red Terror, to consolidate Bolshevik power.
Under Putin, past repressions have been cast in a more positive illumination. This year Memorial, a human rights group that documents victims of Soviet persecution, and Perm-3 6, which operated Russias merely preserved gulag work camp, were both declared foreign agent. Perm-3 6 was forced to close, and the museum it oversaw now highlights the camps contribution to the Soviet victory in the second world war.
Perceptions of Joseph Stalin have also improved in recent years, polling has shown. This summertime, the Communist party spearheaded an effort to return a statue of Dzerzhinsky in front of the security service headquarters in downtown Moscow, although a fountain is now slated to be installed there instead.
Also on Sunday, Putin made a special appearance on state television channel Rossiya 1, in which he said the consistency and honesty of Russias position on Syria gives it strength. He complained that Europe has transferred part of its sovereignty to the US and accused the west of continuing to act according to the cliche of the cold war.
Read more: www.theguardian.com