French president tells country will defend itself after more than 120 people killed in coordinated series of handgun and suicide bombing attack across Paris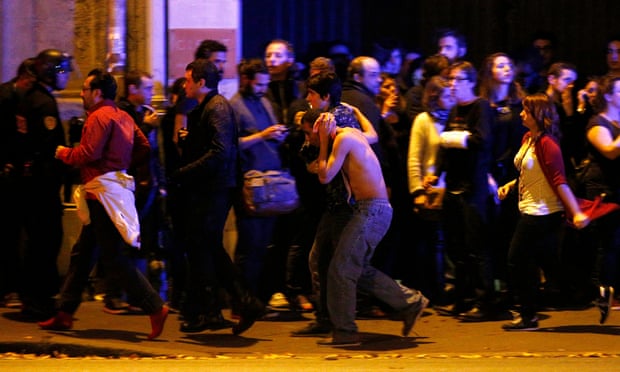 The French president, FranASSois Hollande, has said a wave of handgun attacks and suicide bombings that killed more than 120 people across Paris were orchestrated as an act of war by Islamic State.
The terror group reacted less than an hour afterwards, claiming persons responsible for Fridays attacks and saying they were designed to show France it would remain a top target as long as it continued its policies in Syria.
A statement purportedly released by Isis said its fighters strapped with suicide bombing belts and carrying machine guns carried out the two attacks in various locations in the heart of the French capital following careful organisation.
The statement said: France and those who follow her voice must know that they remain the main target of Islamic State and that they will continue to smell the odour of death for having led the campaign, for having dared to insult our oracle, for having boasted of fighting Islam in France and striking Muslims in the caliphate with their planes.
Hollande in turn described the deadliest terrorist attack on Europe since the 2004 train bombings in Madrid as a cowardly act of war, adding that France would defend itself.
Six sites in the French capital were targeted on Friday evening; gunmen opened fire at a boulder concert and on clients in eateries, and a series of bombs were exploded near the Stade de France, where "the member states national" football team was playing Germany in an international friendly. At least eight attackers are dead, seven of them in suicide bombings. Witness to one shooting said police had told them at least one attacker was still at large.