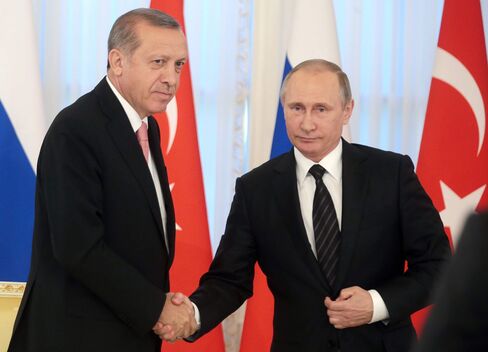 The North Atlantic Treaty Organization called Turkey a valued ally a day after Turkish President Recep Tayyip Erdogan visited Russia in his first trip abroad since last months failed coup.
Erdogan and Russias president, Vladimir Putin, agreed on Aug. 9 to deepen economic cooperation in a bid to mend ties that deteriorated last year after Turkey shot down a Russian plane near the border with war-ravaged Syria.
The meeting in St. Petersburg also followed an affirmation by U.S. Secretary of State John Kerry on July 18 that NATO would assess whether Turkey upholds democratic values amid a wave of arrests tied to the attempt by a group of Turkish military rebels to depose Erdogan. Turkey has been a NATO member since 1952.
NATO counts on the continued contributions of Turkey and Turkey can count on the solidarity and subsistence of NATO, the 28 -nation alliance said in an e-mailed statement on Wednesday in Brussels. Turkeys NATO membership is not in question.
The organization said it was was responding to speculative press reports considering NATOs stance regarding the failed takeover in Turkey and Turkeys NATO membership.
Read more: www.bloomberg.com