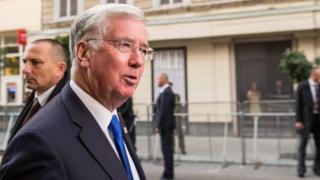 The UK will oppose any attempts to create an EU army because it could "undermine" the role of Nato, Defence Secretary Sir Michael Fallon has said.
Nato "must remain the cornerstone of our defence and the defence of Europe", he said, ahead of informal talks with EU defence ministers in Bratislava.
Sir Michael said the UK was not alone in resisting a common EU defence policy.
European Parliament President Martin Schulz has said the UK would not have a veto over closer defence co-operation.
France and Germany are set to induce the example for increased military co-operation at the informal meeting in the Slovakian capital later.