John Terry captained Chelsea to their first league title in 50 years but suffered the crushing jolt of missing their 2012 Champions League triumph in Munich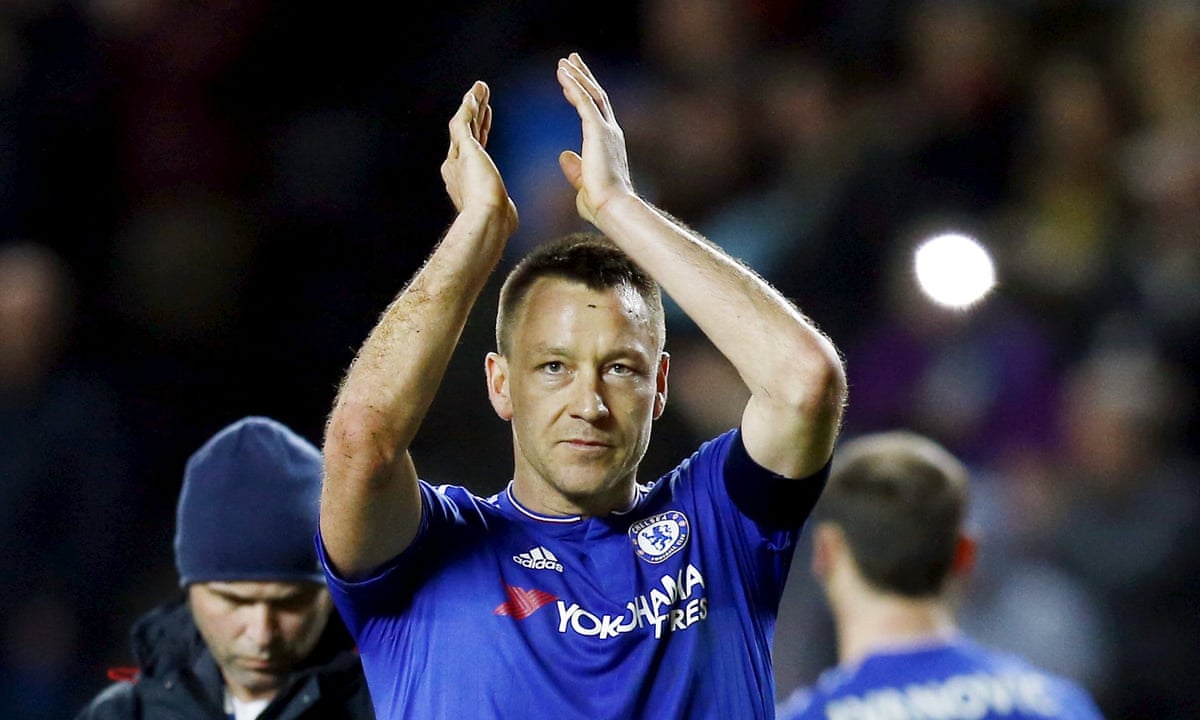 Many will simply shrug and mutter good riddance. They will point to the disputes which expense John Terry his captaincy of England, twice, and to that depressing day in October 2011 when rival centre-halves tangled at Loftus Road, arguing and eyeballing each other, and what might have been a playground squabble amid the craze of a derby erupted into something far more sinister. Life has rarely been simple where Terry is concerned, his rough edges far from smoothed even after 18 years in the professional game. But those who cram into the stands at Chelsea, whether old school or new breed, recognise his qualities more easily. An icon, the likes of whom they may never consider again, is bidding farewell. This parting will be painful.
Like him or loathe him, Terry, more than any of that celebrated spine which so prospered under Jose Mourinho and, invariably, his successors, exemplifies the modern-day Chelsea. The locals latched on to him as one of their own. Generations of youth-team players have graduated through the academy hoping but failing to follow in the footsteps of a player who first arrived at Harlington as a 14 -year-old and, at 17, was replacing Dan Petrescu four minutes from time in a League Cup win against Aston Villa. Sundays thrashing of MK Dons, a club still five years from existence when Terry attained that senior debut, was his 696 th appearance. Merely Ron Harris and Peter Bonetti boast more.
Yet the man for whom that banner still proudly screams Captain, Leader, Legend up in the Matthew Harding stand represented the heartbeat of a club abruptly money-flushed and morphing around him. When Roman Abramovichs takeover enticed internationals from all over the globe to Stamford Bridge, Terry was the rock upon which the team was built. He was ferocious in his tackling, meticulous in his organisation of a defence, an uncompromising figure unperturbed whether barking instructions at World Cup or Champions League wins who had been plucked from France, Italy, Portugal or Germany to play in his squad. Reputations entailed nothing because, in-house at least, only his really counted. No defender boasts more than his 40 objectives in the Premier League.
His forceful personality could predominate the dressing room, and the power-base he enjoyed within that cabal of senior players was not always healthy, but those within the set-up accepted the standing he held within the club. Mourinho recognised his significance early, confiscating upon a player who could hoist a teams performance out on the pitch by his mere, enforcing presence. Fabio Capello was so smitten he twice appointed him as his national captain, and stood by his human even when the players misdemeanours effectively cost the Italian his job. He was the managers eyes and ears out on the pitching, a player in whom they placed their trust. Those head coaches who doubted him tended to regret it in the end, either because they fell victim to the politics surrounding his status, or because their lineups simply lacked the authority he could bring.
He has never been quick, as he acknowledged himself recently, but he read the game well and, from that berth on the left of the two centre-halves, forged partnerships which claimed Chelsea trophies: he excelled alongside Ricardo Carvalho and William Gallas in 2005 and 2006; then Alex, even the erratic David Luiz and, of late, Gary Cahill. At international level he chalked up 78 caps and appearances at four major tournaments. With his club his presence was simply taken for granted. He missed merely one league game when Carlo Ancelottis side claimed the title in 2010 and, when injuries were supposed to have blunted his edge, played every minute of last seasons success. Some of his showings leading up to that triumph last May rivalled the best of his club career.
And yet he never quite separated the pristine from the pantomime. There was that slip in criminal penalties shootout amid the deluge in Moscow in 2008, his effort skewing wide to pass up the chance to claim his clubs first European Cup and leaving him in tears. When Chelsea did achieve that in Munich four years later, Terry was watching on from the sidelines, suspended for a petulant kick out at Barcelonas Alexis Sanchez in the semi-final at Camp Nou. He sat next to Frank Lampard on the return flight from Catalonia, a subdued figure with gleeful pandemonium all around, still unable genuinely to explain what had come over him to induce such indiscipline. His career is punctured with similar sources of regret many detected their route on to the pages, front and back, of national newspapers and there was that far away from subtle courting of Manchester City in the summer of 2009 which, ultimately, earned him a contract the likes of which Chelsea had never previously offered.
Yet, for all those occasions when he veered into disagreement, Terry can objective his career at this club merely pointing to the silverware as evidence of his impact: there were four Premier League titles; three League Cups; five FA Cups, with the possibility of a sixth if the team retain their recent upturn in kind; a Europa League, and a European Cup collected in full kit, as per Uefa regulations, at the Allianz Arena four years ago. Of that squad, merely Branislav Ivanovic, John Mikel Obi and Cahill will remain arrive the summer. Ramires departed for China last week, and Terry may now follow him east. A traumatic domestic season has ended up as a cleansing operation, an opportunity to start again, with Chelsea trying new management and fresh view in the summer.
Unearthing the next generation of leaders, players who can inspire a team relentlessly to success, is an onerous chore. Frank Lampard was cherished, Didier Drogba idolised, Ashley Cole softly admired and Petr Cech worshipped for years and is still being despite three of that quartet having returned at some stage to Stamford Bridge in contenders ranks. It feels inconceivable that Terry would one day be the adversary. He was last off the turf, as usual, at Stadium MK with that chest thumping salute before making public the divorce. Chelseas support will miss him most of all because he was one of their own.
Read more: www.theguardian.com