As son of civil right hero attends Trump Tower for constructive session, more than 30 Democrats say they will not attend on Friday after Trump spat with John Lewis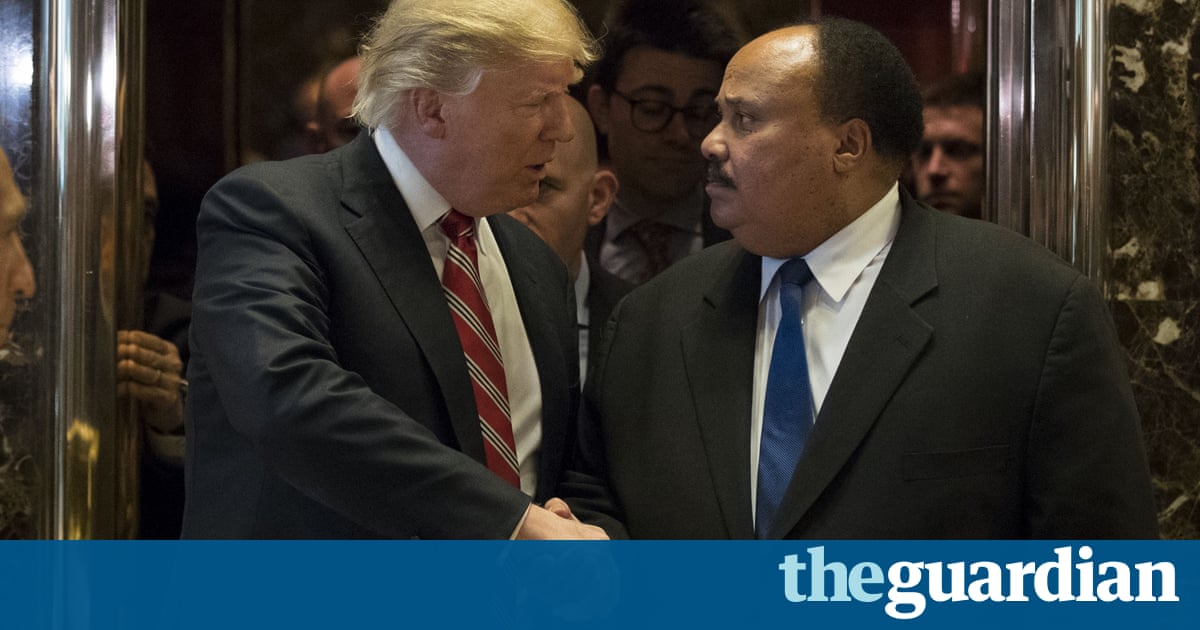 More than 30 each member of Congress will boycott Donald Trumps inauguration on Friday, amid escalating outrage over alleged connections between the president-elects squad and Russia and belittling remarks about civil rights veteran John Lewis.
As the US marked its national holiday honoring Martin Luther King Jr on Monday, the number of Democrat pledging to shun Fridays ceremony and galas rose. Keith Ellison, the first Muslim elected to Congress and a candidate for chair of the Democratic National Committee, joined them. Their extraordinary step was praised by progressive leaders.
A little before 1pm, however, Martin Luther King III, the oldest child of Martin Luther King Jr, arrived at Trump Tower in New York to meet the president-elect.
Around 50 minutes later, King emerged from the buildings elevators and spoke to reporters. Asked why he had met Trump, who did not talk to the press but was assured shaking his guests hand, he said it was a constructive meeting and added: We have got to move forward.
King and William Wachtel, a New York lawyer, said they spoke to Trump about voter participation and how to carry forward Kings fathers legacy by making it easier for everyone to vote. President-elect Trump has committed to working with us, Wachtel said.
In 2013, a supreme court decision struck down key elements of the 1965 Voting Rights Act, a central accomplishment of the civil rights motion designed to protect minority voters.
This president may well be in adherence with the spirit of the Voting Rights Act and once again make it easy for all Americans to vote, Wachtel said.
Read more: www.theguardian.com