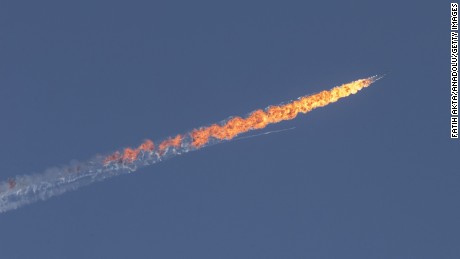 ( CNN ) Turkish forces-out shot down a Russian aircraft near the Turkish-Syrian border on Tuesday, dangerously intensifying a conflict that is expanding ever more rapidly and unpredictably.
Take a step back and look at what Syria's war has worked: Only days after the Paris attacks — one of the worst terrorist attacks on European soil since World War II — and with the unofficial capital of the European Union, Brussels, still under a partial lockdown, the states members of NATO downed a Russia fighter jet.
If this had occurred during the Cold War, we would be bracing for the possibility of a nuclear war. Thankfully, that conflict is over. Instead of dialing nuclear codes, Russian President Vladimir Putin called for an emergency session of the United Nations Security Council while NATO summoned its own emergency meeting.
Refugees from Syria have determined as far away as Uruguay,and terrorist attacks from someones linked to the Syrian fighters have not only killed people in Syria, Iraq, Lebanon and Turkey, but also in Canada, France, Australia, Nigeria, Denmark and elsewhere. And let's not forget Egypt, where intelligence experts and Russian authorities believe a Russian passenger aircraft was purposely downed simply a few weeks ago.
Does it sound like a world war?
The term "world war" patently conjures the two great conflicts of the 20 th century. A striking parallel this time is the reluctance of the United States to get involved — the public wish to stay out, to say, "This is not our fight."
It's impossible to know just how far the analogy will hold. But it's worth remembering that those conflicts only came to an end when the U.S. saw it impossible to feign it was not affected by a brutal conflict raging war thousands of miles from America's shores.
Join us on Facebook.com/ CNNOpinion .~ ATAGEND
Read CNNOpinion's Flipboard publication .~ ATAGEND
Read more: edition.cnn.com