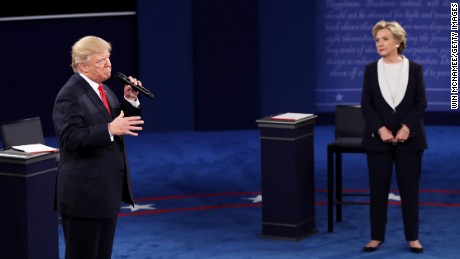 (CNN)Hillary Clinton and Donald Trump met Sunday for their second presidential debate, and CNN's Reality Check Team spent the evening analyzing their claims.
The team of reporters, researchers and editors across CNN listened throughout the debate and selected key statements from both candidates, rating them true; mostly true; true, but misleading; false; or it's complicated.
Obamacare
Reality Check: Trump on Obamacare premiums
By Tami Luhby, CNNMoney
Trump cited Obamacare as one of the top problems he wants to address if he is elected president.
"When I watch the deals being made and watch what's happening with horrible things like Obamacare, where your health insurance and health care are going up by numbers that are astronomical. By 68%, 59% and 71%," Trump said.
It's true that some insurers are raising some of their plans' premiums by that much, but that's not the typical increase.
Insurers have requested a rate hike of 9%, on average, for the benchmark silver plan for 2017, up from 2% for this year, according to the Kaiser Family Foundation.
The vast majority of Obamacare enrollees, however, don't see those massive hikes. Some 85% of them receive federal subsidies that can lower their premium to less than 10% of their income.
Clinton praised Obamacare as providing health insurance for 20 million people who didn't have it before.
"Right now, we are at 90% health insurance coverage. That's the highest we have ever been," she said.
Clinton is right that the largest share of Americans now have health insurance. It's actually even more than 90%. The uninsured rate was 8.6% in the first three months of this year, according to the National Health Interview Survey from the Centers for Disease Control and Prevention.
That means a record 91.4% of Americans were insured.
In response to a question on Obamacare, Trump said, "If you ever noticed Canadians, when they need a big operation, when something happens, they come into the United States, in many cases because their system is so slow it's catastrophic in certain ways."
The 52,000 is an increase of about 10,000 from the previous year. The report last year said one reason for patients traveling abroad is the long wait times in Canada, which were reported to be nearly 10 weeks for treatments deemed medically necessary.
The report itself says it does not have exact numbers but assumes it underestimates. That said, 52,000 Canadians is a miniscule percentage of the more than 35 million Canadians who receive benefits.
Trump said Clinton "wants to go to single-payer, which means the government basically rules everything." He went on to say, "Hillary Clinton has been after this for years. Obamacare was the first step."
The goal of adding a public option would be to stabilize Obamacare, which has seen several large insurers downsize their presence and premiums rise as insurers try to deal with sicker-than-expected enrollees. Obamacare had created non-profit cooperative insurers to give consumers more choice, but most of those carriers have failed.
Clinton wrote, "We must work to expand Medicaid coverage in the 19 states that have left 3 million Americans without health insurance because their states refused to expand Medicaid and enroll people eligible for coverage. We need to improve and strengthen the ACA through enhanced tax credits to make coverage affordable, implementation of strong measures to bring down the cost of prescription drugs, increased competition between insurers, and an aggressive campaign to increase outreach and enrollment. And finally, we need to ensure the availability of a public option choice in every state, and let Americans over 55 buy in to Medicare."
The medical journal asked the same question to Trump but he has yet to respond. He has said Obamacare should be repealed.
Trump told Clinton that "your campaign" was responsible for circulating photos during the 2008 primaries depicting Barack Obama dressed in traditional Somali garb, a famous flare-up during the Democratic primary eight years ago.
Well, sort of.
The photo first appeared on Drudge Report, the conservative aggregator, and was attributed at the time to sources within the Clinton campaign, though no names were offered. The Obama campaign pounced on the report, blasting it as "divisive politics" and "part of a disturbing pattern."
The Clinton campaign at the time did not immediately dispute that it was responsible — its first statement did not address the substance of the allegation.
"This is nothing more than an obvious and transparent attempt to distract from the serious issues confronting our country today and to attempt to create the very divisions they claim to decry. We will not be distracted," her aides said at the time.
The campaign said later that it had not been sanctioned by the campaign – but was not definitive about where it originated.
"We have over 700 people on this campaign and I'm not in a position to know what each one of them may or may not have done," campaign spokesman Howard Wolfson said at the time.
Previous questions about the Clintons' race-based attacks on Obama have been blamed on volunteers, who might not have been "sanctioned" by the campaign. Clinton's campaign brass pointed the finger at a "volunteer coordinator" in Iowa who shared the photo, which was part of what Trump said was an effort to discredit Obama's heritage and legitimacy. The volunteer was clearly backing Clinton and organizing on her behalf in the first-in-the-nation primary state. But it's not certain whether the volunteer was drawing a paycheck from her campaign and therefore an official Clinton actor.
"I don't recall whether they were an actual paid staffer," former Clinton campaign manager Patti Solis Doyle told CNN earlier this year. "But they did forward an email that promoted the conspiracy."
By Ryan Browne, CNN National Security Producer
Trump returned to a common theme, slamming Clinton for her use of personal email during her tenure as secretary of state.
"You think it was fine to delete 35,000 emails? I don't think so. She said that 33,000 emails had to do with her daughter's wedding, number one, and a yoga class."
He added, "for you to say that there was nothing wrong with you deleting 39,000 emails, again, you should be ashamed of yourself."
Hillary Clinton praised the prosperity America enjoyed during the administration of her husband, Bill. In addition to saying millions of jobs were created and everyone's income rose, she specifically cited how African-Americans benefited.
"African-American incomes went up 33%," she said.
The typical African-American household's income rose to $40,830 in 2000, up 31.5% from 1992, just before Clinton took office, according to Census Bureau data.
That's an even more robust increase than Americans as a whole. Overall, the typical American household saw its income climb to $57,790, up 13.9% from 1992.
By Eve Bower, CNN
Trump again claimed that he would not have supported the 2003 US invasion of Iraq. Specifically, he said, had he been president, he "would not have had our people in Iraq," and Captain Humayun Khan would still be alive.
Khan's parents, Khizr and Ghazala Khan, gained national prominence after speaking critically of Trump at the 2016 Democratic National Convention.
Trump claimed Clinton would be "raising everybody's taxes massively."
Clinton has proposed raising taxes on the highest-earning Americans, but not anyone making less than $250,000.
Independent analyses of her plan find that her proposed tax hikes would squarely hit the most well off.
The nonpartisan Tax Policy Center noted that "nearly all of the tax increases would fall on the top 1 percent; the bottom 95 percent of taxpayers would see little or no change in their taxes." The Tax Policy Center will soon publish an updated analysis of her tax plan to incorporate new tax proposals she made over the summer.
Clinton said that despite claims that he would cut taxes for everyone, Trump actually "would end up raising taxes on … millions of middle-class families."
A leading Democratic tax policy expert conducted the study, but the conservative Tax Foundation said it replicated many of her numbers and found her conclusions "reasonable."
The study estimated that roughly 20% of households with minor children and more than half of single parents could end up paying more in taxes than they do today. These groups include about 25 million adults and 15 million children.
What explains the tax impact? While Trump would increase the standard deduction and add new child care tax breaks, he would also raise the lowest tax bracket to 12% from 10%, eliminate the head of household status and repeal some personal exemptions.
Many single parents could find that tradeoff leaves them with a higher tax bill, the study found.
Trump said the following about the fight against ISIS.
"I don't like Assad at all, but Assad is killing ISIS. Russia is killing ISIS. And Iran is killing ISIS. And those three have now lined up because of our weak foreign policy"
But is Trump right that those three countries are "killing" ISIS amid the bloody civil war convulsing the country?
Backed up by Russian military power, the Assad regime has targeted what it commonly refers to as "terrorists" but that has primarily meant various groups who are specifically acting to depose the Assad government. Some of those groups include groups the United States also sees as being capable to assist the primary aim of the US-led coalition which is to dislodge ISIS from its base in Syria and Iraq.
Russia insists it has been targeting ISIS forces since it entered into military action inside Syria in support of the efforts of the Assad regime, but US officials have said the majority of Russian airstrikes have been against US-backed rebels battling Assad's forces, as opposed to ISIS. That was one of the reasons US efforts to establish a mechanism where Russia and the United States might cooperate to increase the pressure on ISIS fell part.
Earlier this year, Secretary of State John Kerry said Iran had been "helpful" in targeting ISIS on their own inside portions of Iraq, but there has been little evidence of Iranian forces targeting ISIS inside Syria in support of the Assad regime. Iranian forces in Iraq did play a key role in some of the critical battles that dislodged ISIS from Tikrit and Baiji, and other portions of northern Anbar province where ISIS had a large presence.
Syrian forces backed up by the Russian military have also been accused of targeting civilians inside Syria and launching attacks that have indiscriminately killed thousands of Syrian civilians throughout the course of Syria's civil war — most recently in Syria's largest city, Aleppo.
A voter asked what the candidates would do to help Muslim-Americans who are being "labeled as a threat" and are targets of Islamophobia.
Trump side-stepped her question by calling on the Muslim community to do more to report terrorism.
"We have to be sure that Muslims come in and report when they see something going on," said Trump. "As an example in San Bernardino, many people saw the bombs all over the apartment of the two people that killed and wounded many, many people. … Muslims have to report the problems when they see them."
Charles Kurzman, professor at University of North Carolina, Chapel Hill conducted a study in 2013 to examine the relationship between Muslim-Americans and terrorism on American soil. He found that "Since 9/11, 54 Muslim-American terrorism suspects and perpetrators were brought to the attention of law enforcement by members of the Muslim-American community out of 188 individuals where the initial tip was made public. Another 52 individuals were discovered through US government investigations."
By Travis Caldwell, CNN
In a response to rising Islamophobia in America, Trump suggested that the terrorist attacks in Orlando and San Bernardino, as well as the events of 9/11, were a direct result of "radical Islamic terrorism" and stated Clinton and President Barack Obama won't use the phrase.
First, a breakdown of the events Trump mentions.
At face value, the attackers noted by Trump were indeed beholden to a radicalized ideology.
Trump also criticized Clinton and Obama for their failure to use the phrase "radical Islamic terrorism."
Obama spoke with CNN's Jake Tapper last month on his particular reluctance to use the phrase, saying, "The truth of the matter is that this is an issue that has been sort of manufactured, because there is no doubt, and I've said repeatedly, that where we see terrorist organizations like al Qaeda or ISIL, they have perverted and distorted and tried to claim the mantle of Islam for an excuse, for basically barbarism and death."
By Theodore Schleifer, CNN
Trump was curious why Clinton had not devoted any of her personal fortune to his campaign, like he has to his. But his charge included a curious datapoint.
"She made $250 million by being in office. She used the power of her office to make a lot of money," Trump claimed.
The main way the Clintons made money: private speeches. The speaking fees — and what Clinton said to financial audiences behind closed doors — emerged as a major campaign issue during the Democratic primary, with her rival Bernie Sanders repeatedly calling for the release of the transcripts. And the money she made was another sign of what critics said was a disconnect between the life of the secretary of state and the life of the average American.
Trump may have been misspeaking and meaning to reference a different number: $150 million, which is the amount that both Clintons collected during their time after office. When you include Bill Clinton's 637 paid speaking engagements from February 2001 to May 2015, the total Clinton fees rises to $154 million split over 729 speeches.
But a majority of that money came from Bill Clinton, who has had a much lengthier tenure outside of public office.
As for how much she has contributed to her campaign, Clinton has made $1.2 million in in-kind contributions to her campaign.
Trump criticized Clinton's record as a senator representing New York, saying: "Hillary was going to bring back jobs to upstate New York and she failed."
As a senator, Clinton promised to bring 200,000 jobs to upstate New York. She did not.
Upstate New York consists of 49 counties, according to the New York Federal Reserve. It does not include New York City and its surrounding suburban counties.
Clinton became a senator in January 2001 and her last full month in office was December 2008.
During that time, employment in the metro area of Syracuse increased by 5,029 workers. However, the unemployment rate in Syracuse was 4.8% at the start of 2001 and, like much of the nation, rose in 2008 to 6.7%, Labor Department figures show.
Ithaca also had jobs gains but a rise in the unemployment rate.
In Binghamton's metro area, employment declined by 3,600 workers during Clinton's term. In Rochester, employment declined by 5,600 workers.
In a December 2007 report, the New York Federal Reserve found private sector job growth in upstate New York declined 0.2% on average per year between 2000 and 2005. Job growth did pick up in 2006 and 2007.
The region did lose 85,000 manufacturing jobs between 2000 and 2006. However, that was in line with the national trend. While Clinton was a senator, the US economy lost about 4.2 million manufacturing jobs due to improved technology and trade. The New York Fed noted in its report that the manufacturing job losses in upstate New York "appear unlikely to be reversed."
The manufacturing job losses also weren't entirely offset by job gains in lower-paying industries such as health care, education and hospitality, the report found.
Trump once again blasted America's trade deals and once again gave the wrong figure for the nation's trade gap.
"Last year, we had almost $800 billion trade deficit. In other words, trading with other countries. We had an $800 billion deficit. It's hard to believe. Inconceivable," Trump said.
The nation had a nearly $763 billion deficit in the trading of goods in 2015, according to Census Bureau figures.
But America is shifting to a service economy and exports $262 billion more in services than we import.
That brings our overall trade deficit down to $500 billion for 2015.
Clinton said Trump has insulted many different groups.
"We have seen him rate women on their appearance, ranking them from one to 10. We've seen him embarrass women on TV and Twitter. We saw him after the first debate spend nearly a week denigrating a former Miss Universe on the harshest most personal terms. So, yes. This is who Donald Trump is. It's not only women and this video that raises questions about his fitness to be our president. Because he has also targeted immigrants, African-Americans, Latinos, people with disabilities, POWs, Muslims and so many others," Clinton said.
Let's break down some of Clinton's points.
"We have seen him rate women on their appearance, ranking them from one to 10," Clinton began.
He then proceeded to rank a list of celebrity women on a scale from one to 10 as Stern provides him with their names.
Stern suggested Trump should start a "Donald Trump evaluation show" to give weekly ratings on women.
"You know that would be a very good show for Sirius I think," Trump agrees. "You do that for hours and hours. It would get tremendous ratings."
"We saw him after the debate spend nearly a week denigrating a former Miss Universe on the harshest most personal terms," Clinton said.
In the days after the first presidential debate last month, Trump repeatedly defended his statements about former Miss Universe Alicia Machado.
"She gained a massive amount of weight and it was a real problem, we had a real problem, not only with that but her attitude, and we had a real problem with her," Trump said on Fox News.
"He has also targeted immigrants, African-Americans, Latinos, people with disabilites, POWs, and Muslims and so many others," Clinton said.
Trump on immigrants: "But you have people coming in and I'm not just saying Mexicans. I'm talking about people that are from all over that are killers and rapists and they're coming into this country," Trump said on CNN's "State of the Union" last year.
During the first presidential debate, Trump said, "We have gangs roaming the street. And in many cases, they're illegally here, illegal immigrants, and they have guns. And they shoot people. And we have to be very strong. And we have to be very vigilant."
Trump on African-Americans: "You're living in poverty, your schools are no good, you have no jobs, 58% of your youth is unemployed — what the hell do you have to lose?"
Trump on Latinos: "When Mexico sends its people, they're not sending their best. They're not sending you. They're not sending you. They're sending people that have lots of problems, and they're bringing those problems with us. They're bringing drugs. They're bringing crime. They're rapists. And some, I assume, are good people," Trump said in his presidential announcement speech in June last year.
Trump said that he did not know the reporter, so therefore he could not have been mocking him.
Trump on Muslims: Trump has called for surveillance of mosques, religious tests for immigrants that would prevent Muslims from entering the country and compiling a national database of Muslims living in the United States.
Read more: www.cnn.com