Foreign secretary redoubles criticism of Vladimir Putins is supportive of Bashar al-Assad and continues to push for tougher stance on Moscow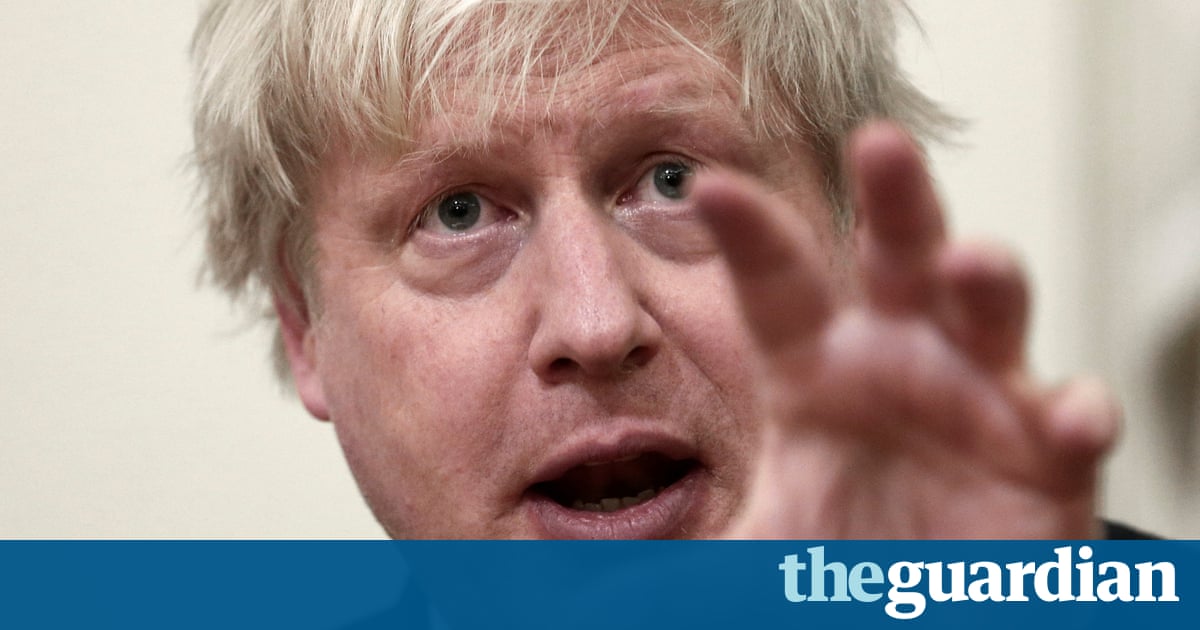 Boris Johnson has intensified his criticism of Russia, accusing it of being on the wrong side of history over Syria after it blocked a UN resolution condemning the use of chemical weapons.
The foreign secretary accused the Russian president, Vladimir Putin, of being a lifeline for the murderous Syrian regime the day after he failed to win backing from other G7 nations for further economic sanctions on Russia.
The lack of support for measures proposed by the UK was interpreted as a mortification but Johnson continued to build the instance for a more robust approach towards Putin after Russias actions at the UN security council on Wednesday.
Aligning the UKs position with that of Rex Tillerson, the US secretary of state, he said: This afternoon in New York, the international community sought to make clear that any use of chemical weapons by anyone anywhere is unacceptable and that those responsible will face consequences.
So I am dismayed that Russia has once again blocked the UN security council and in so doing refused to condemn the use of chemical weapons or supporting a full UN investigation into the attack. This puts Russia on the wrong side of the argument. But it doesnt have to be this way.
Today, Rex Tillerson has been in Moscow with a clear and unanimous message from the G7 that we stand ready to work with Russia to bring an end to violence and to find a political answer. As part of this political solution, the G7 is unanimous that Assad has no long-term future in Syria. I agree with Rex Tillerson when he says that the Assad familys reign in Syria is coming to an end.
Johnson said Russia now faces a choice of continuing to act as a lifeline for Assads murderous regime, or it could live up to its responsibilities as a global power, and use its influence over the regime to bring six long years of failed ceasefires and false daybreak to an end.
He added: We stand ready to work together and I will be talking to my G7 partners in the coming days about how we can continue to strive for a political solution that brings an aim to the agony of the Syrian people.
Earlier, he was backed by Philip Hammond, the chancellor and his predecessor as foreign secretary, who accused other G7 nations of being less forward-leaning than Britain.
On Tuesday, Downing Street also insisted May fully backed Johnson after the 30 -page communique from the two-day G7 summit failed to make any mention of Johnsons proposal of imposing sanctions on key military personnel.
But Johnsons failed bid to get backing for a tougher stance against Russias support for Syrias president, Bashar al-Assad, has led Labour to describe him as a liability for the UK who undermine our credibility.
Labours shadow chancellor, John McDonnell, said Johnson had erred in cancelling at the last minute a planned trip-up to Moscow to find his counterpart, Sergei Lavrov, and instead focusing on the G7 meeting.
The idea of running along to the G7 to try and put together a coalition around sanctions was never going to succeed. It was a bad policy decision by Mr Johnson. It should never have happened, McDonnell told Sky News.
He should have gone to Moscow. When he went to Moscow he should have been clear with the Russians just how much we denounce what Assad has done, and what theyve done in support of Assad, but try to get them back to the negotiating table.
Writing for the Guardian, Tim Farron, the Liberal Democrat leader, said the foreign secretary was floundering without armbands, out to sea and out of his depth while Theresa May is on holidayand offering him little help with the crisis.
Farron argued threatening sanctions against Putin was necessary but should not have been the main focus. The humanitarian imperative was and remains how to prevent the further murder of the innocent, he said. So the discussion needed to be about no-fly zones, safe passageways and gaining the cooperation of regional powers all massive challenges, likely to take up the energies of the G7 summiteers.
Instead we had the Boris circus show: lots of table thumping beforehand about how he was going to deliver sanctions, followed by that familiar quizzical expression at the post-summit photocall when he had delivered precisely nothing. Even fellow Conservative pastors have said, helpfully, that he has been humiliated, while No 10 has offered him every form of support short of actual help.
A spokesman for Johnson was bullish about the G7 outcome, insisting the prospect of targeted sanctions remained on the table.
Frankly, it is completely shortsighted and wrong to assert this G7 failed to deliver, he said on Tuesday. It unanimously agreed Assad has no future in Syria, that Russia must work to stabilise Syria and work with others, and everyone round the table agreed that sanctions should and would be imposed on those involved in the chemical weapons attack once an investigation happens.
Read more: www.theguardian.com